Launching an online e-store is one of the sound ways to multiply your income as a store owner. However, you should make a wise choice in terms of what you use to power a website. To quickly and effectively launch an e-store, you can take advantage of one of the 15+ latest e-commerce templates.
The e-store templates presented in this post incorporate the latest advances in web design and development. They are responsive, cross-browser compatible. Moreover, they bring your clients the richest UI and the best customer experience possible. So, choose the one that fits your needs and head toward success of your enterprise with it!
Bakerix: Bakery Responsive Shopify Theme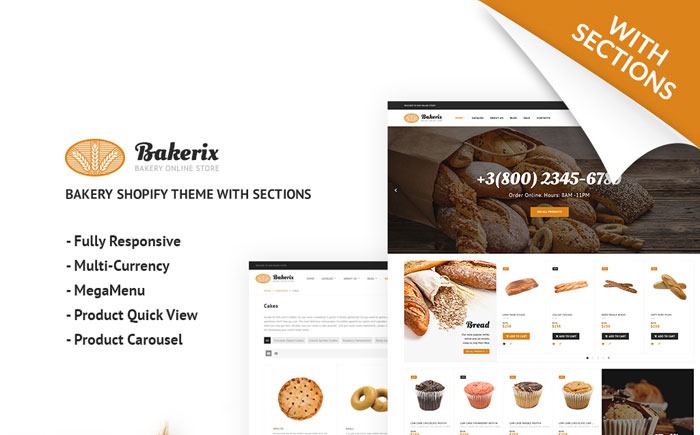 Bakerix is a niche Shopify theme that lets you launch a full-fledged store in a matter of days. It brings you such features as MegaMenu panels, product Quick View and Carousel and much more. Bakerix supports multiple currencies and is flexible in terms of configuring different payment and shipment methods.
Ketondo: Office and Stationery Supplies Magento 2 Template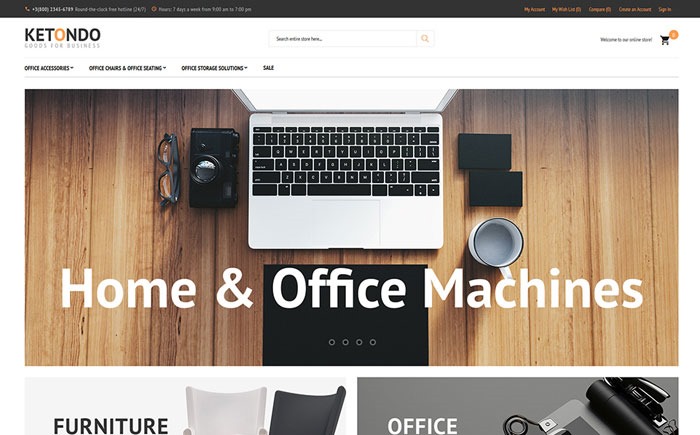 The design of Ketondo template is craftily tailored for stationery niche. Thanks to Magento engine, you get a chance to build ample filterable catalogs with thousands of configurable products. What's more, the theme supports setting up multiple currencies, delivery methods and payment getaways.
BooksID: Online Book Store Magento 2 Website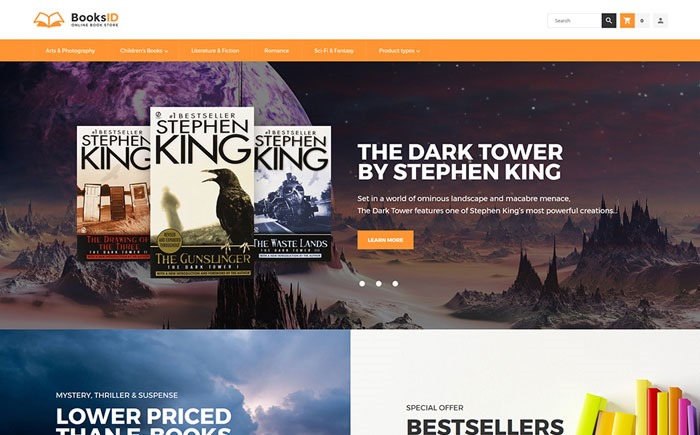 If you want to create a thrilling online book store, BooksID is the visually astonishing bounty that you're searching for. Convenient to use, this template allows your clients to navigate among different categories and genres with ease. What's more, this Magento theme allows you to build extended filterable catalogs and incorporates a handy live search.
Glasscos: Accessories Responsive PrestaShop Site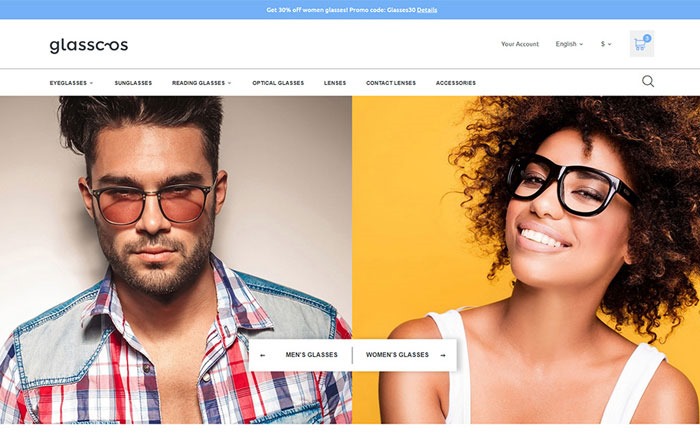 To make your accessories store successful, you need a sleek and sunny theme that looks ultimately stylish. With Glasscos, you can showcase each item of your store to great advantage thanks to large image previews. The theme incorporates 3 diverse website homepage layouts to let you foster your unique sense of style.
FurniStore: Furniture Responsive WooCommerce E-shop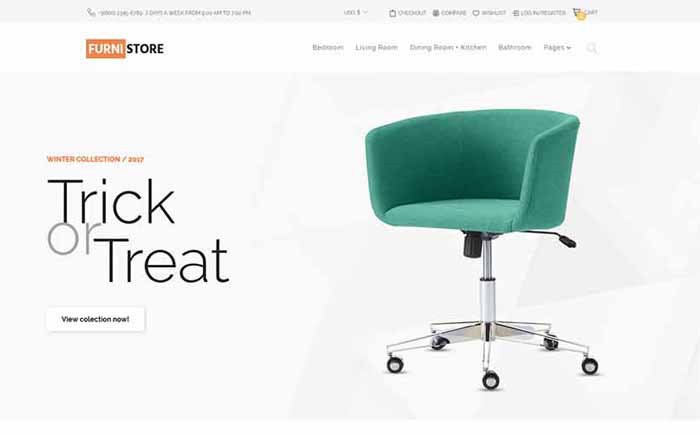 This furniture store template lets you build a cutting-edge online store presence with no headache. The theme brings you 25 + content modules that you can use within Power WYSIWYG editor. Moreover, the template incorporates WooCommerce package, a powerful plugin bundle to power the functionality of your e-store.
Pi: Multipurpose Responsive WooCommerce E-store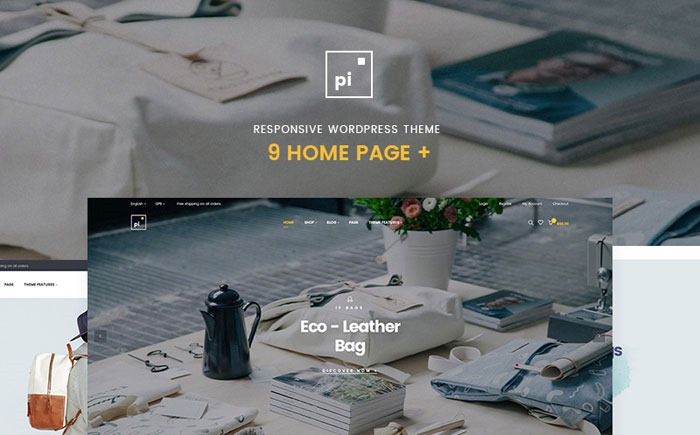 Pi is a new-gen WooCommerce template that comes with 9+ ready-to-use skins for powering different niche stores. What's more, you get 6+ product page layouts and fully customizable product catalogs. In addition to this, the theme provides you with premium MegaMenu extension that lets you build appealing website navigation panels.
Chef's Pleasure: Spices E-store PrestaShop Design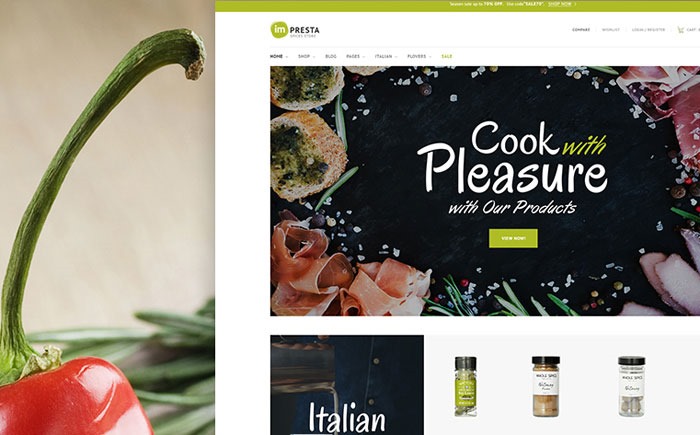 Chef's Pleasure theme leaves enough space for concentrating on the look and aroma of spices that comes to mind when one sees the vivid images of product samples. An ample set of plugins account for the breathtaking shopping experience this template provides. To name just a few, you'll appreciate TM Product Videos, TM Mosaic Products, TM 1-click Order and TM Mega Layout Builder plugins that diversify the functionality of your website.
Pyhotera: Fashion Boutique Responsive PrestaShop Theme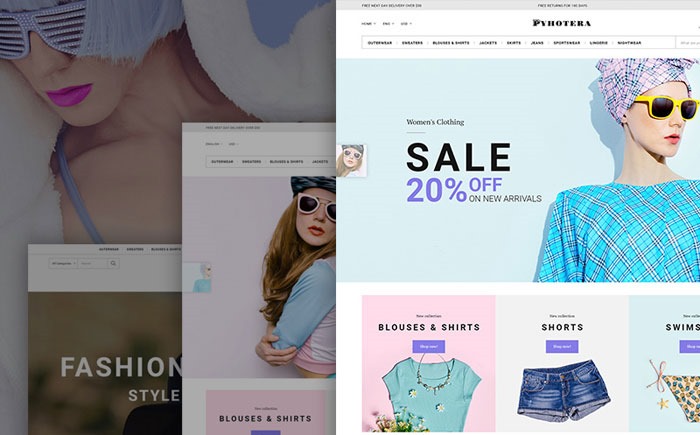 The new Pyhotera template marries the fashion of 2017 into the latest web design trends. Make your items desired with sleek product previews and fashionable color palette of this template. This multilingual and multicurrency theme makes shopping with you a treat thanks to TM 1-click Order, Product Quick View and Ajax Cart extensions.
Energizing Coffee Shop Responsive Shopify Template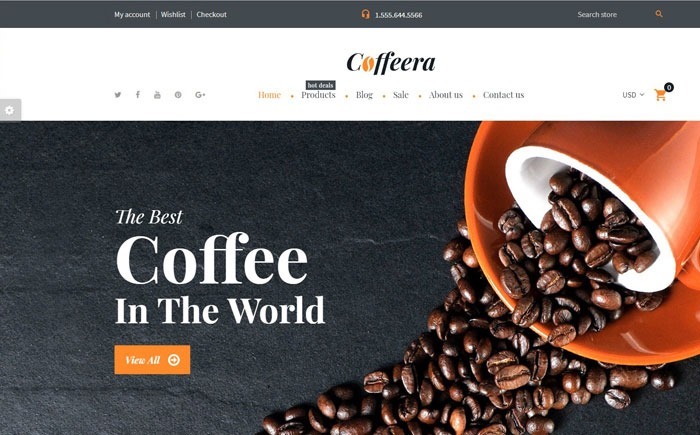 For office and for home, best coffee blends will find a favorable presentation on the pages of your e-store with this template. This theme allows your clients to sort and filter product catalogs and quickly find the product they're looking for. Moreover, with an amazing MegaMenu extension you can create beautiful, customizable menu panels in a matter of minutes.
Beardoff: Skin Care Products WooCommerce Website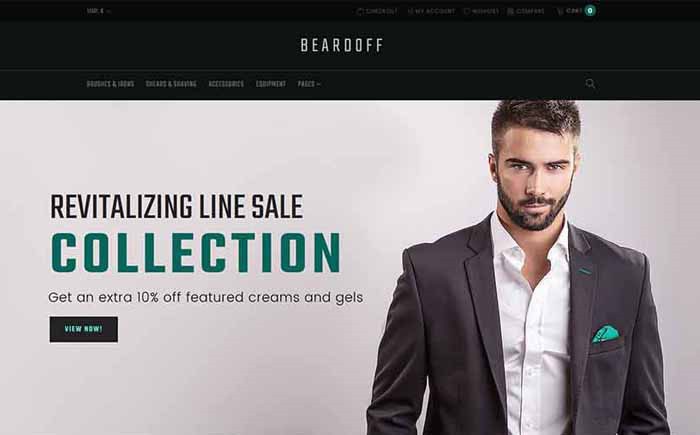 Skincare and haircare are no more targeting female audience only. This e-store template would be ideal for a barber shop or men's cosmetics website. Thanks to comprehensive WooCommerce plugin, running a store using this template is a simple task that even a non-techie can master.
Impresta: Bubbly Kids Store PrestaShop Site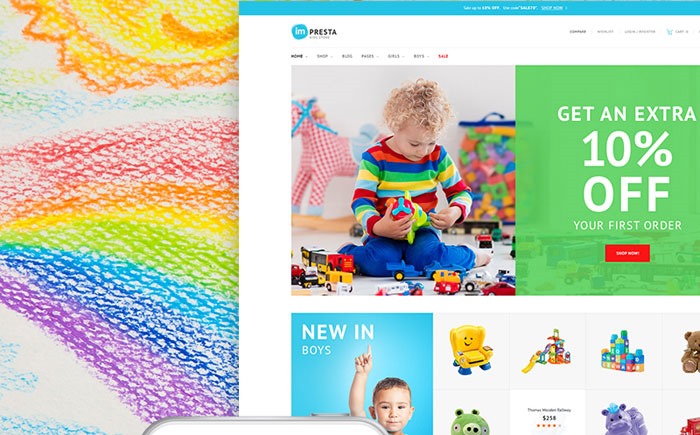 The positive shades of blue, baby pink and green used in this theme reinforce the sense of childish happiness. The theme brings you a set of unparalleled customization options with Mega Layout Builder. What's more, you can play around with font size and color to keep it in line with imagery of little ones for a stronger visual impact.
SmileHerbic: Spice Shop Responsive PrestaShop Design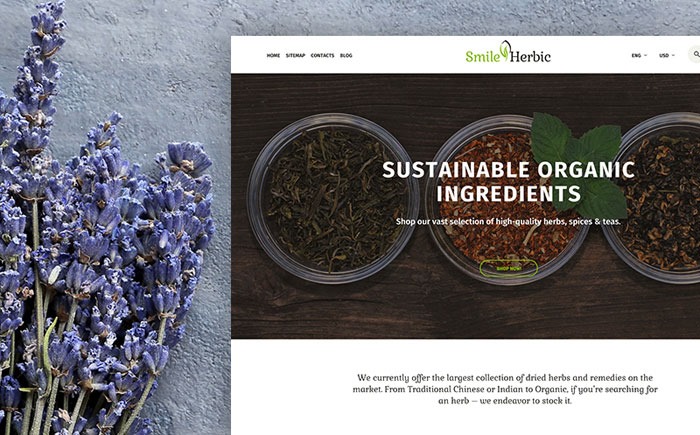 SmileHerbic theme is built with Mega Layout builder to let you power a visually rich organic spice e-store. It includes 3 pre-made layouts to provide you a diversity of ready-made choices to power your store in hours. What's more, the template brings you tons of exclusive modules that enrich your store's functionality.
Ministore: Sleek Fashion WooCommerce Theme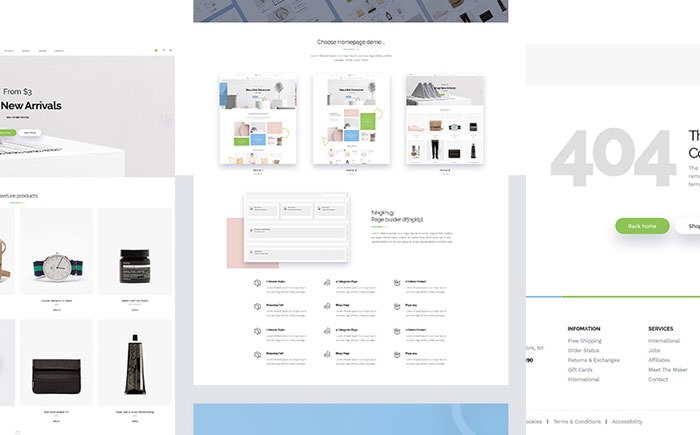 Ministore is a subtle and beautiful e-commerce template. It runs on WooCommerce, so if you want to power an e-store, and still work in the comprehensive WordPress dashboard, just embrace this template. Ministore includes Revolution Slider and Visual Composer, as well as brings you functional On Sale page and powerful search and filter system.
GigaGlass: Clothes Shop Responsive PrestaShop Template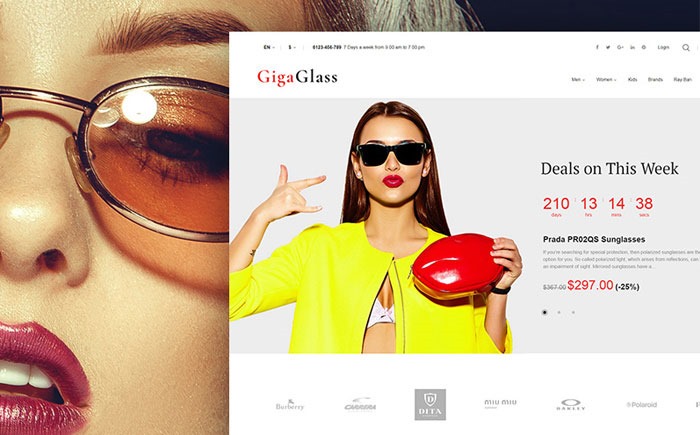 If you know your way around style and fashion, GigaGlass theme will highlight your individuality and uniqueness online. This theme balances vibrant color accents with minimalist, content-centered page designs. What's more, GigaGlass has the full toolkit for the store owner: filterable product catalogs, multiple currency, taxation and delivery options, as well as Wishlist and Compare functionality.
Orize: Minimalistic Accessories Store WooCommerce Webesite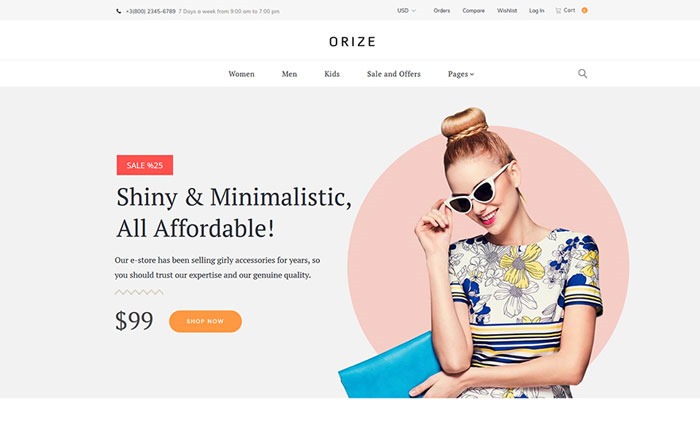 Orize is a minimal and clean WooCommerce theme that lets you run a content-centered accessories e-store, which is optimized for sales. The template offers your website guest such convenient features as Wishlist and Compare features, as well as neat and appealing product quick previews.
Recuidi: Wholesome Food Magento E-store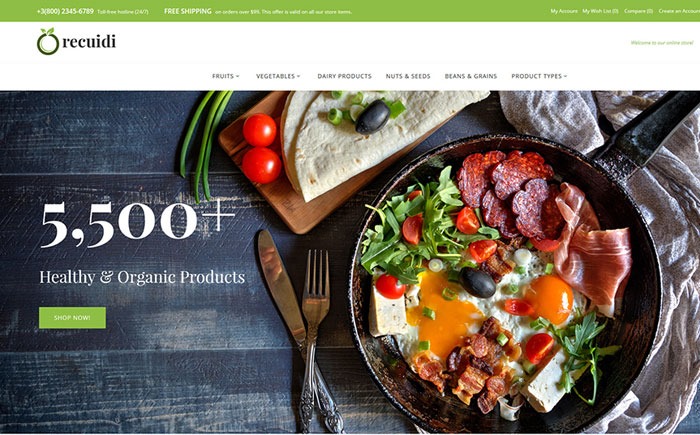 If you're running a grocery store or food market that offers organic products, you have a chance to obtain new loyal clients. For this, launch your website with the visually abundant Recuidi Magento theme. This template brings you 20 + pre-built modules that are worth $1060 in total if purchased separately.
Binec: Low-key Responive WooCommerce E-shop Design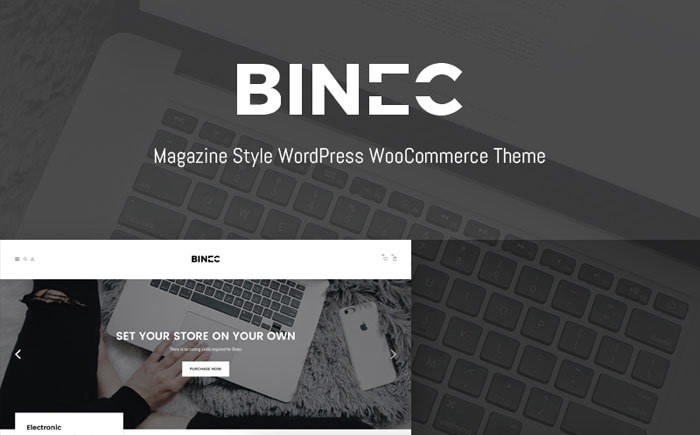 No doubt, you care for presentation of the content on your website, as it should be convenient for your clients. This well-structured and straightforward template creates the best conditions for an informed choice. Moreover, it fosters an appealing UI thanks to diverse widgets and content modules included in the template price.
We hope you found this collection of themes for your e-store quite exciting. Check out the themes' Live Demos and opt for the one that appeals most to you. Customizing the theme and launching your store won't be troublesome, as all these themes are supported round-the-clock and extensively documented.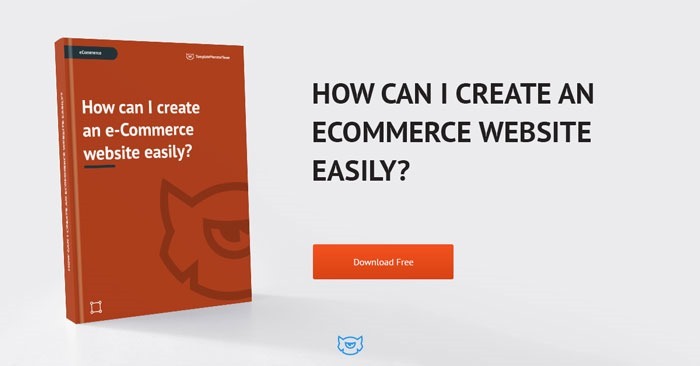 If you're in search for some hands-on advice on how to easily start an e-store, check out the free How can I create an eCommerce website easily? e-book. This book thoroughly guides you through the process of e-store creation and shares life hacks from experienced professionals and amateurs. Feel free to download the e-book.