Making beautiful brochures is easy for anyone, when they have a gorgeous template to start from. But even if you are an experienced graphic designer, using a template is still a great idea. Editing templates takes far less time and effort than creating something from scratch.
So, designer or not, you're going to love what we crafted for you!
Drumroll please…
Today we're offering you a free Adobe InDesign brochure template, published under a Creative Commons Zero (CC0 1.0) license. It means that you can copy, modify and distribute the template without credits or any other restrictions in any personal or commercial projects, without asking permission from or providing attribution.
About the download package
This is a modern brochure template designed and released by Patricia Coroi, a graphic designer from Romania. The download package includes the following:
16 pages (including a front & back covers), letter size
Images: all the photos contained in the brochure template. These are all Creative Commons Zero photos from Unsplash, published under the same license as the brochure. However, we recommend replacing these images with your own.
Paragraph styles included, aligned to a 12 column grid
Fonts: Playfair Display and Josefin Slab – These are free Google fonts. If you don't have them installed in your computer, you can easily get them from Google.
If you like a clean, minimal design, then this is the right brochure template for you. The file comes in the .indt format for easy editing in Adobe InDesign.
Here's an overview of all the page layouts: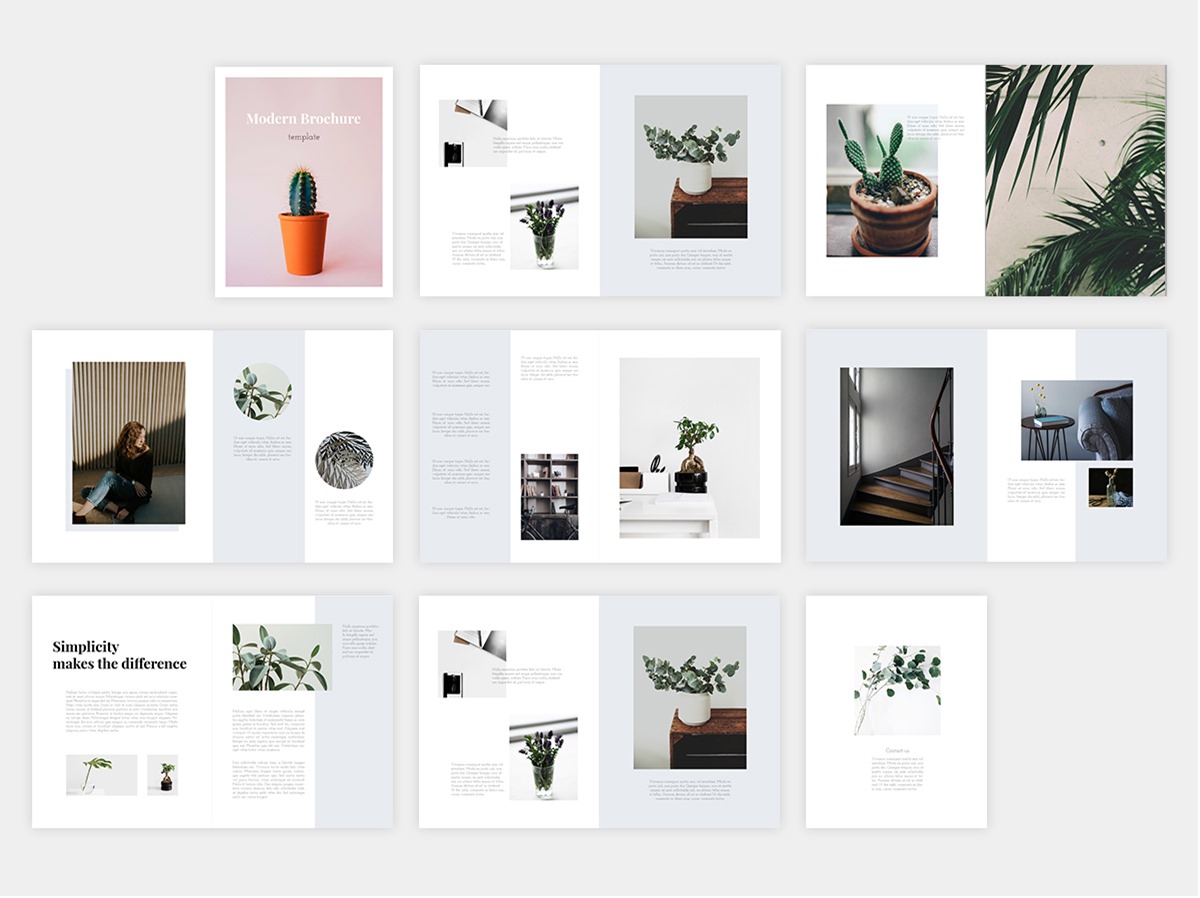 You can download the entire package with a simple click on the download link. All you need is to have the software installed on your computer and some basic InDesign knowledge. The brochure is fully customizable, meaning that you can completely transform it using your own content: images and texts. The template will help you organize and present your ideas in a beautiful, stylish way.
What projects should I use it for?
This creative template is very versatile. It works perfectly for various types of projects. It can be a promotional brochure, a gorgeous newsletter, a portfolio that highlights your work, a stylish presentation, or a personalized booklet that you offer as a gift to a loved one. What you decide to use it for, is up to you!
—
Written by Patricia Coroi: Patricia Coroi is a graphic designer who works for Flipsnack. Besides editorial design, she takes an interest in art projects, architecture and photography. Slightly obsessed with Pinterest.