Having a nifty looking blog is a good thing. However having one that is optimized to bring new web traffic is even better. This is where creative writing meets Search Engine Optimization, commonly known as SEO. People who have a natural flair for writing will no doubt produce good content that other people would want to read but if their blog is not 'optimized' to assist in finding those people or brining readership to the blog, then all their hard work will go unnoticed. This is where SEO plug-ins for WordPress comes in.
If you are the owner of a WordPress blog, you no doubt will have an idea about plug-ins and how they work. However this post will highlight specific WordPress SEO Plug-ins for blogs that are an absolute must if you want your voice to reach out to the world. Creating unique content is only half the part. The other half revolves around ensuring your work gets noticed, read and critiqued and this is precisely where SEO plug-ins can help you.

No post on this topic can afford to exclude this plug-in. In fact, no blog owner can afford to skip it as this is widely regarded as one of the most important SEO plug-ins for any WordPress blog. It automatically optimizes your blog for SEO. It is extremely easy to install and the best part is that it can configure itself, however advanced users can also make adjustments as they see fit.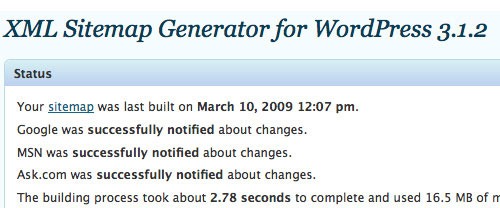 A sitemap is instrumental in getting a blog or website indexed. Instead of having to go through the painstakingly technical process of creating an XML sitemap yourself, the Google XML sitemap can create one for your blog in an instant. Not only does it create a crawler-friendly sitemap, it also notifies Google, Yahoo, Bing and Ask.com of the changes to ensure your most up-to-date sitemap is submitted to all the major search engines.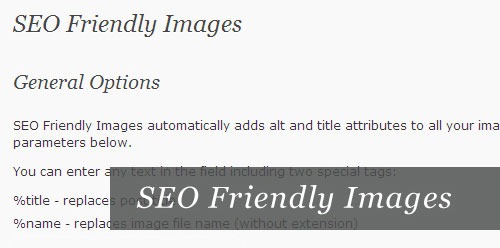 Search engines analyze images differently than humans. While a human mind can look at an image and instantly make a connection, search engines rely on the ALT attribute that is used in conjunction with IMAGE tags in standard HTML. Blogging interfaces have greatly evolved nowadays and one doesn't need to bother with HTML code to create a post but many users are more likely to skip the ALT tag which is something the search engines are looking for when reading images. SEO Friendly Images takes care of that problem and allows you to add ALT tags to all images in a post or blog. It is a great tool to assist your blog in gaining rankings in the SERPs.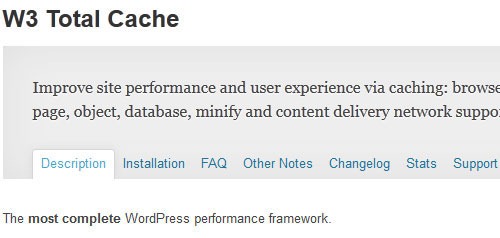 This plug-in generates static html files directly from your WordPress blog. The whole idea behind it is to assist the page in loading faster. Page load time is a ranking factor with Google and it carries a certain amount of significance. From an end-users point of view, if a page takes too long to load, the reader will skip and move to another site leading to high bounce rate- another ranking signal in Google that can negatively impact you.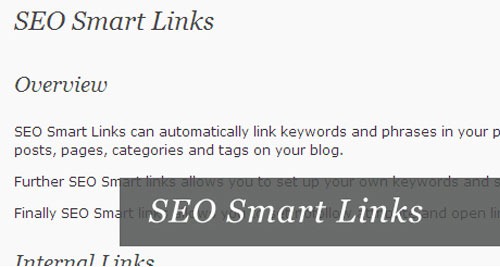 This SEO plug-in assists in internal link building. When enabled, it will automatically link keywords and phrases in your posts and comments with other corresponding posts, pages and tags on your blog. Internal linking and deep linking are important SEO concepts that assist in blog ranking and helps viewers reach to information they are seeking. This makes SEO Smart Links a no brainer for blog owners.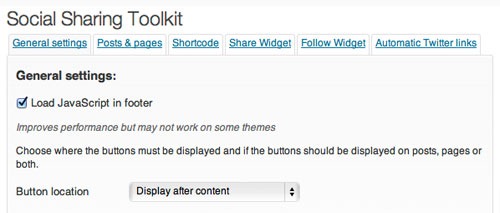 If you are not doing social media for your blog, you are setting yourself for failure. Sharing your content with others through social media such as Facebook, Twitter and Google Plus is now an absolute must if you want to reach your target audience and increase your web presence. Social Sharing Tool Kit contains all the popular social networking and bookmarking links, all in one tool bar. It will display itself on every post so anyone who reads your posts can like it or mention it on Facebook or through other mediums.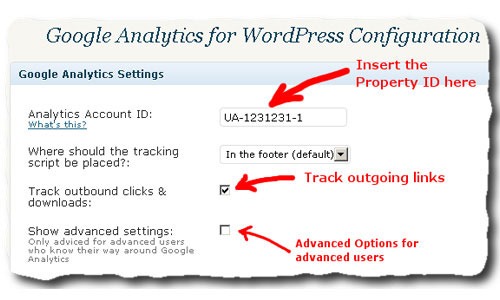 There is so much talk about WordPress SEO Plug-ins for blogs. But what if blog owners wanted to see for themselves whether all the SEO work is paying off in some way or form? Enter Google Analytics for WordPress Plug-in, an extremely useful tool that analyzes your blog and provides mountain loads of data for the end user. You can track how many visitors came to your site on any given day, what keywords they used to find your blog; how they find your blog and how long did they stayed on it. This plug-in can help you determine where you are lacking and take necessary action accordingly.

This tool is not directly related with SEO but it has its own significance. If you don't have check points on your blog that can distinguish a human from a comment spamming bot, your posts can end up being flooded with thousands of spam comments which the search engine crawlers will see and count against you. To prevent this from happening, blog owners use tools like Captcha, which requires people to prove their human identity by performing simple math or letter recognition before commenting. It's a must have for blog owners if they want to avoid being penalized by Google and more importantly, to stay clear of spam.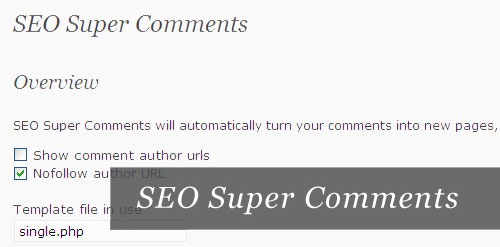 Just like blog posts, blog comments can be indexed, crawled and ranked. SEO Super Comments turns comments into new pages by creating a new dynamic page on the blog. What this means is that you can start seeing search engine traffic based on the context of the comment, an invaluable thing to have for blog owners.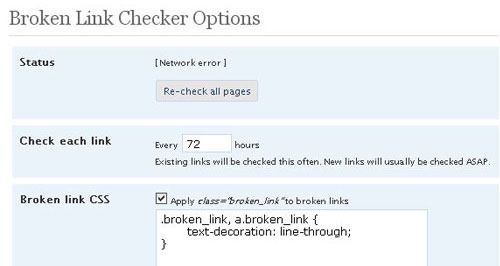 When it comes to SEO, everything has to be flawless and perfect. For example every link on a blog should point to some page. Broken links count against a blog and search engines can easily determine that. The Broken Link Checker plug-in will analyze your entire blog, check all links and report the ones that are broken so that you can deal with them accordingly.
These 10 SEO Plug-ins for WordPress blogs are some of the most widely used at the moment. People have responded well to these plug-ins based on their functionality and how well they can work with WP blogs to improve web ranking and traffic, two things blog owners can never have enough of. Try these for your blog and see how well they work for you.
Written by Jennifer: Jennifer Mathews is a creative design consultant for LogoSnap.com, helping small businesses create a brand image and grow their online presence. She likes to stay ahead of trends, explore new mediums and blog about her experiences.