Check out this fantastic showcase of design ideas, ranging from cleverly interactive to simply beautiful these paper projects will get your creative juices flowing! 
You will find stunning creatures, transforming pieces, entertaining concepts and contemporary approaches in this collection!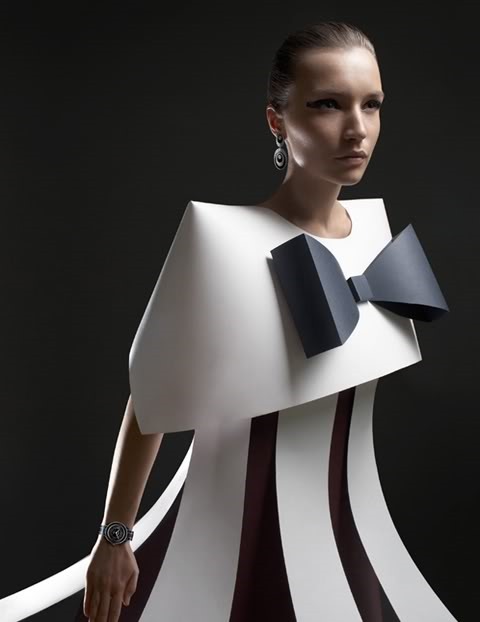 This elegant example is part of a series created by Ilya Plotnikov and Alexandra Zaharova aka Doberman Studio. It challenges the boundaries of design and proves that paper more than has a place in Fashion photography.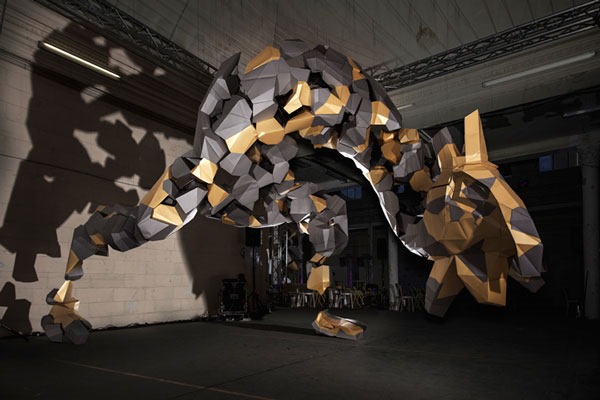 Constructed from 360 pieces, this mythical creature known as a 'Basalisk' from MOSTLIKELY, a Vienna based design agency, demonstrates how much impact a few sheets of paper can have!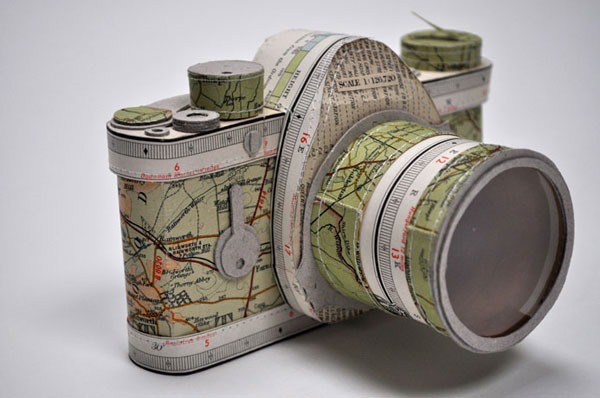 Made by Jennifer Collier, this stunning Map SLR camera is one of many 'one-off' creations. We're not surprised it's a one-off – it must've taken forever to perfect!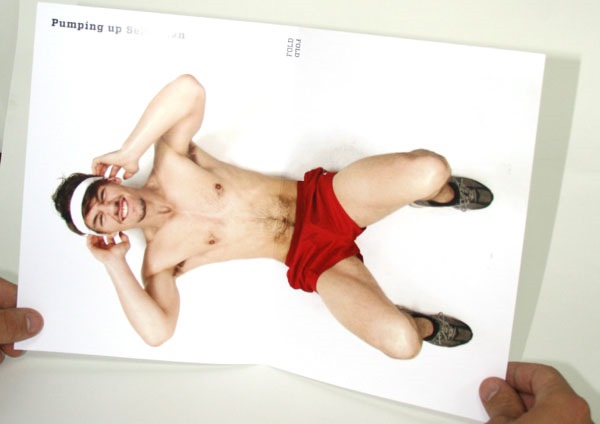 Carl Angelo demonstrates an entertaining example of interactive design. The fold in the page is used to the designer's advantage; as the reader opens and closes the page, the subject performs the exercise. No pain, no gain!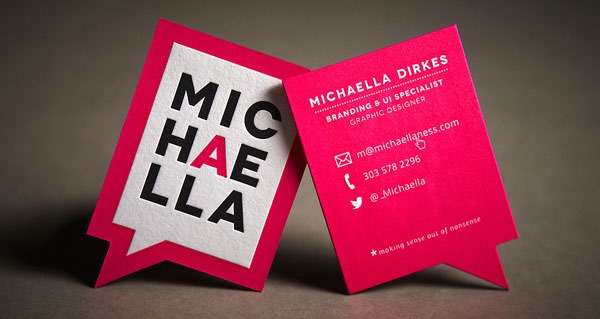 Michaella Dirkes' business card certainly has something to say for itself. Merging traditional letterpress processes with a contemporary hot pink aesthetic and sharp speech bubble design, these cards shout Michaella's name.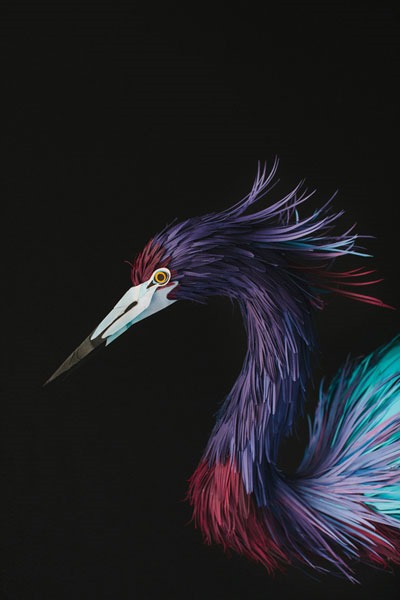 Created by Diana Beltran Herrera, this Heron paper sculpture is part of the Exotic Birds series commissioned by Santafe Medellin. (Photography by Victoria Holguin).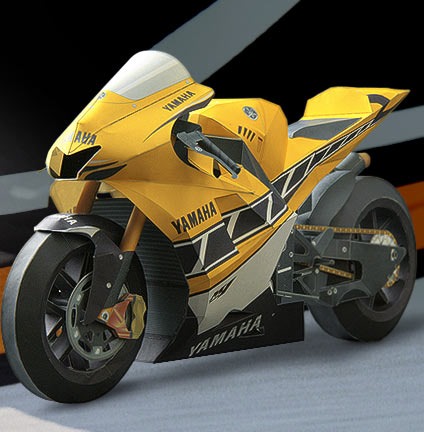 Motorcycle fans will enjoy this one. Yamaha promoted the YZR-M1 by making the paper craft data and build instructions available to download as PDF. Zero to sixty in just a few sheets of paper!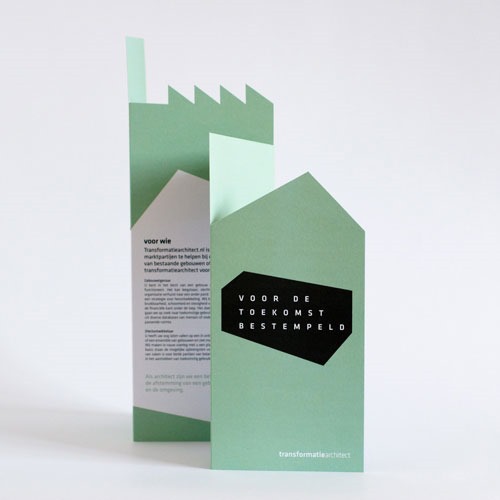 We really enjoyed this beautiful example created by illustrator Jessica Nielsen for JADE architects to reflect JADE's approach of transforming buildings to serve another purpose or function.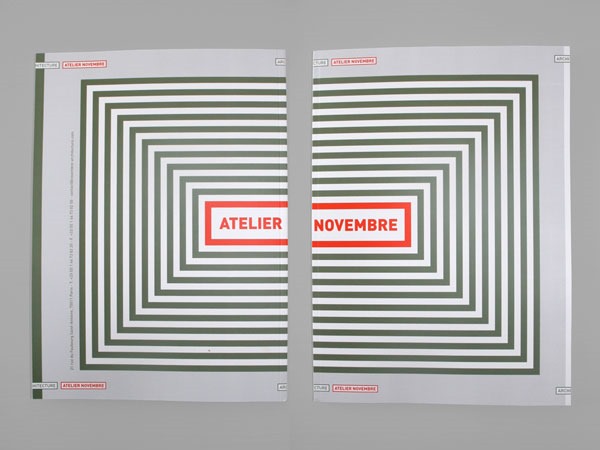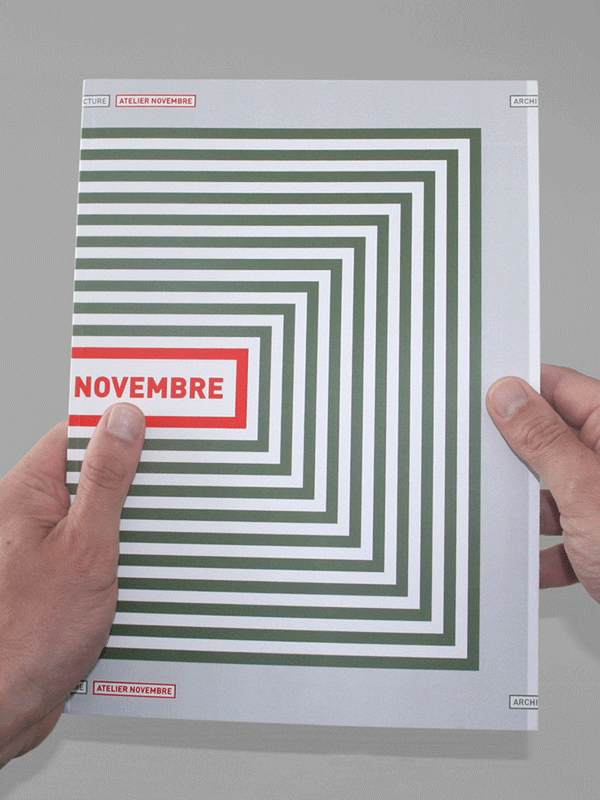 This book cover for 'Atelier Novembre' was envisaged by Benedict Bodhuin. The design immediately challenges conventions by only displaying half of the title on the front cover, with the rest of the title on the back cover. This allows the Bodhuin to place equal design emphasis the back cover and encourages the reader to pick up the book to view the back as well as the front, engaging with the subject. Be careful not to stare at it for too long though!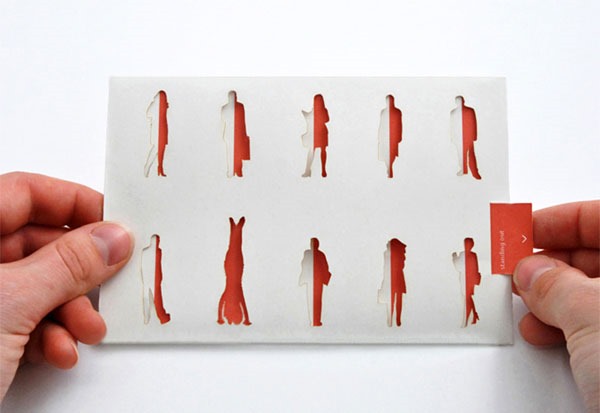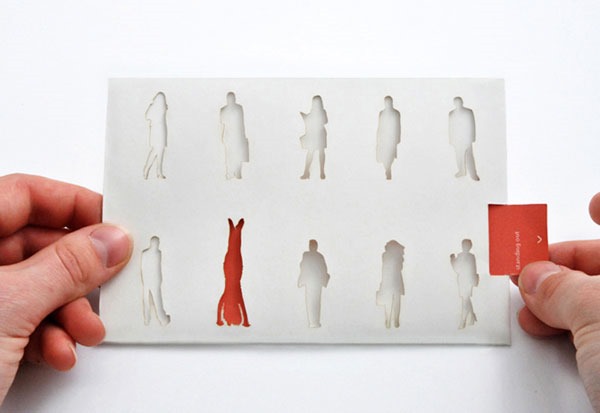 Next up, another interactive postcard that caught our eye, this time designed by Nicky Vandewater. According to Nicky, this was created to "promote & match the overall visual aesthetics of my personal business system".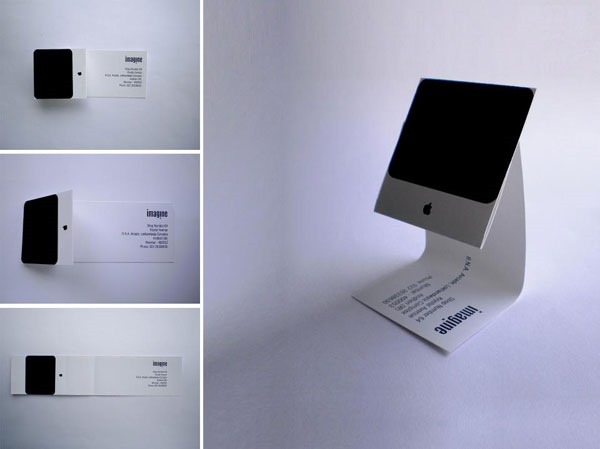 This business card transforms from an entirely flat design into a 3-dimensional form – once the transformation is complete, it brilliantly resembles an Apple iMac. Genius!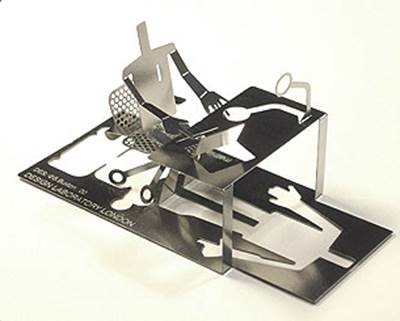 This original business card design and fold out creation that started the Mikro series was created by Sam Buxton and produced from milled Stainless Steel.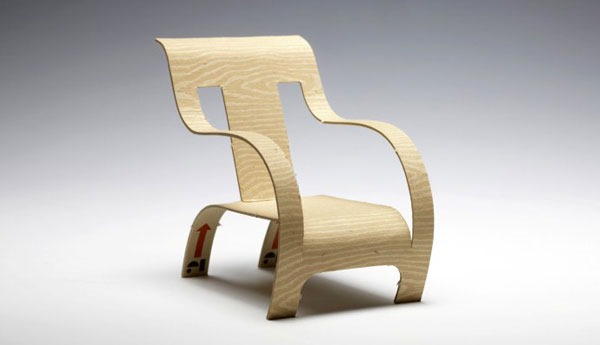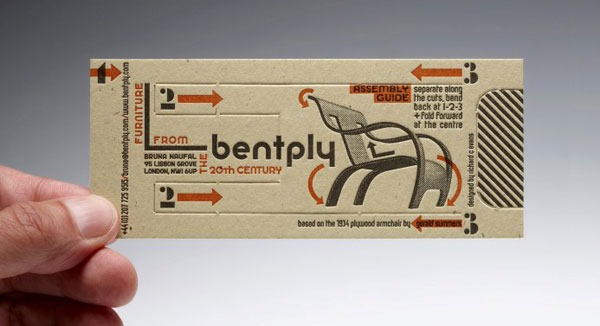 Take a seat and take a look at this next ingenious creation: the London furniture shop bentply had this amazing business card designed for them by Richard C. Evans.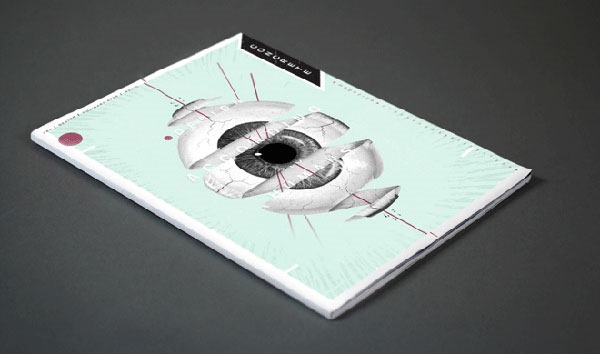 For a magazine cover that catches your eye, look no further than Ryan Bosse's Concrete Magazine. Created to deliver news of visual and music culture to the students of Fort Hays University. We love it!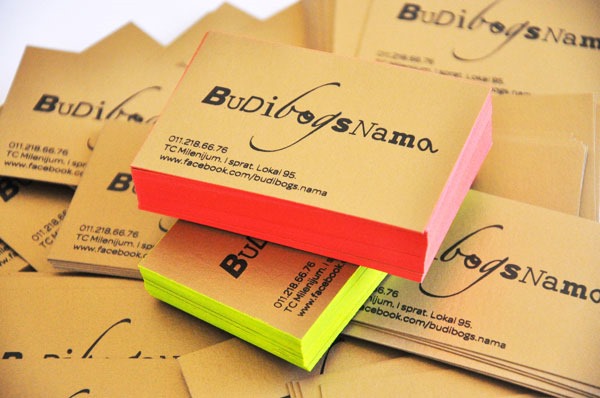 If you are looking for something different you've come to the right place – the accessories boutique company Budibogsnama have a beautifully outrageous and flamboyant design which epitomises confidence and pleasure thanks to the spray painted edges clashing brilliantly with the gold face. This card will leave an impression for sure! Hats off to Sofija and Teodora, the creative duo behind 'TeYosh' who were commissioned for the task.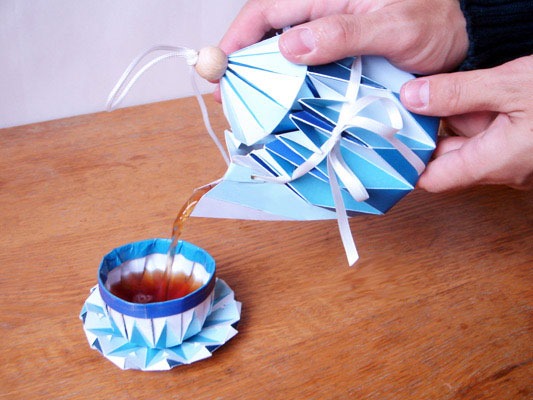 The Netherlands' based designer Yuya Ushida has created an origami tea set out with each piece made from a single sheet of paper. Milk, one sugar?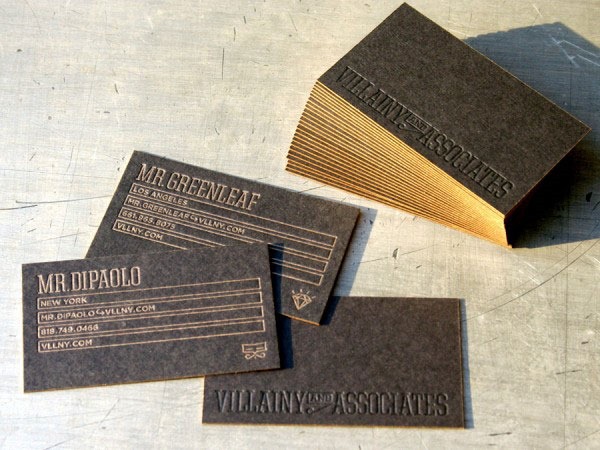 Villainy and Associates have produced this beautifully modest letter press design with a hint of metallic gold. Simple, yet certainly effective in catching your eye.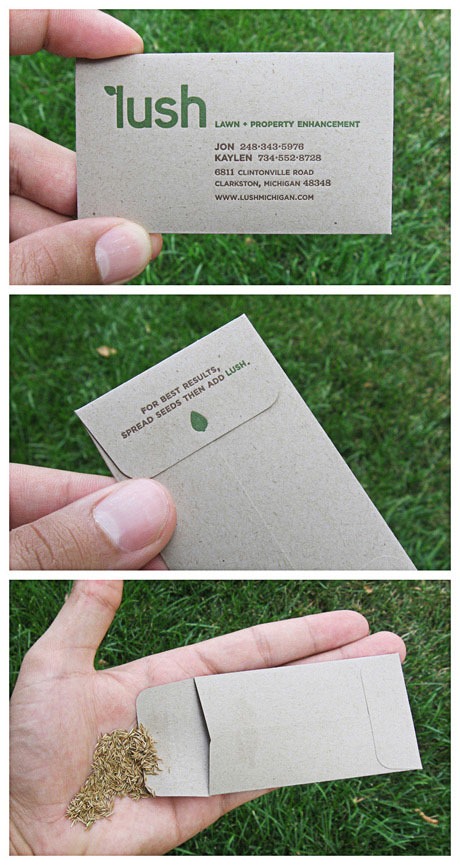 We really enjoyed this fabulous way of supplementing your print and design concept with a gift. This dual-functioning business card doubles up as a sachet of seeds. Oak trees from acorns, as they say…
This light-hearted approach to business card design had us giggling. The "Check out my better half" line, playfully reflects the creative (and pie related!) partnership of Mike and Alma.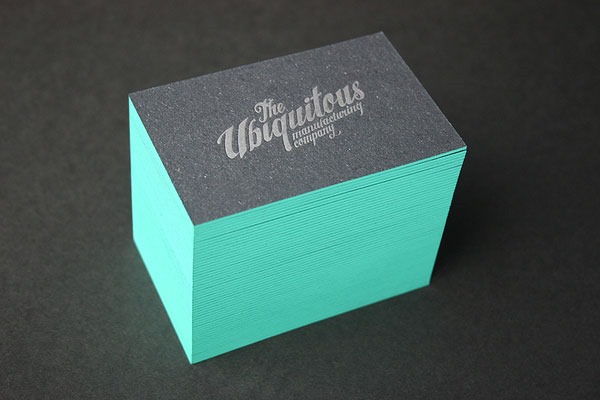 Ubiquitous Manufacturing Company's absolutely gorgeous and striking business cards feature a bold and bright accented painted edge, and are produced from 100% recycled dark grey board. Bravo to Blush Publishing Ltd for these cards.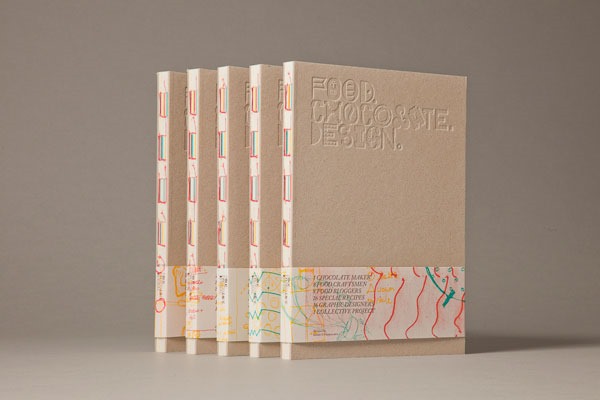 It was obviously the stunning design (and nothing to do with the contents!) of this 'FOOD. CHOCOLATE. DESIGN.' book created by Happycentro studio with the Italian chocolatier Sabadi that caught our attention. The predominately neutral colour reflects the organic approach of Sabadi, whilst the colourful details on the spine convey the tingles of delight experienced when tasting chocolate. Yum!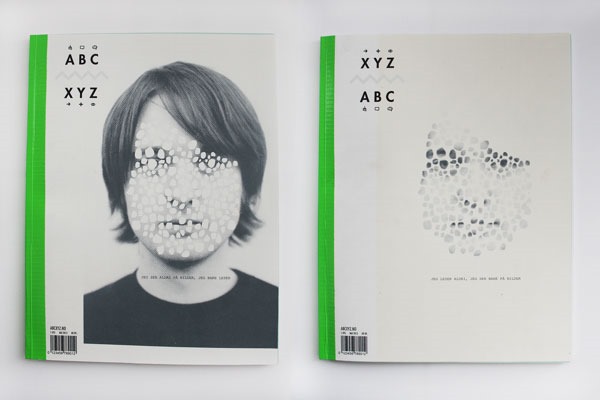 This beautiful cover design was created by 'Found In Space', a talented graphic designer based in Norway. Simple and effective, both covers are equally successful in achieving an understated brilliance – the room on the page allows the image(s) to 'breathe' and the bold green strip symbolises design confidence. The 'reversed' nature of these alternate magazine covers is reflected both in the images and the typeface. We could stare at these all day…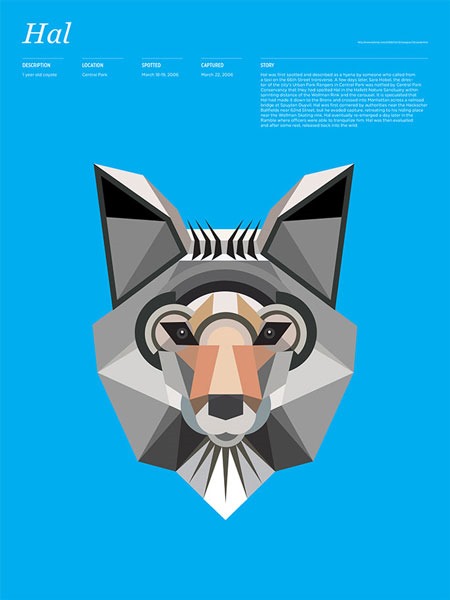 This delightful animal poster is one of a series created by Thomas Wilder of MGMT. Design to reflect sightings of wild animals within NY city.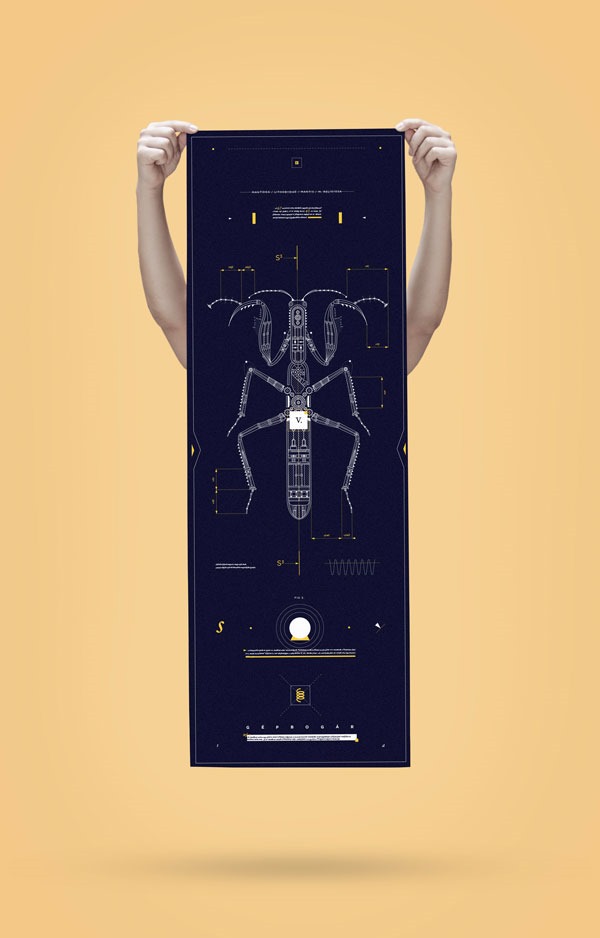 Part of a series of 'Mechanical Insects' by Hungarian art director and graphic designer Marton Borzak, the stunning results of Borzak's work are a true mixture of fact and fantastic fiction.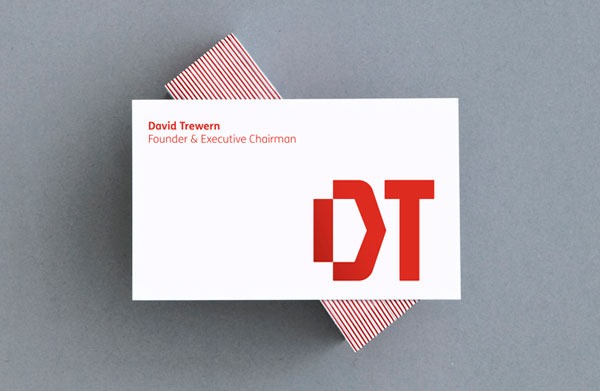 DT Digital's brand identity created by Design Works is powerful and bold, encompassing the agency's ambition. When it comes to business card design, there's sometimes nothing more powerful than a set of stark, bold (company or personal) initials.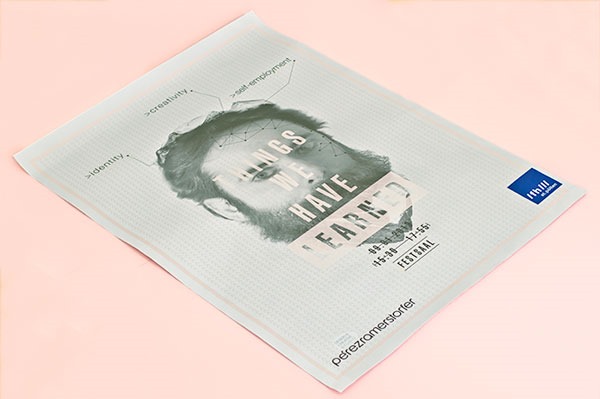 This beautiful poster design was created by Perezramerstorfer Studio to promote a lecture they were giving to design students at the FH St Poelten University of Applied Science.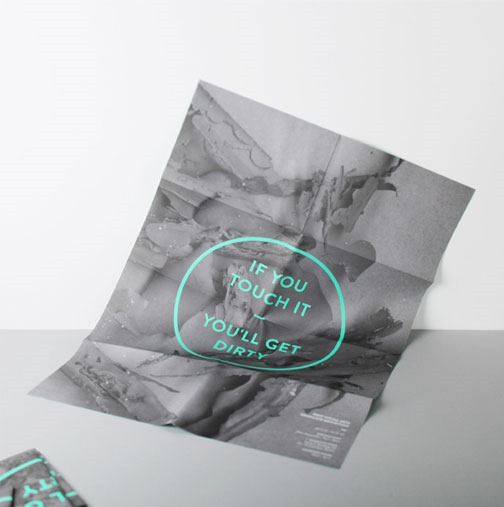 Ew! This poster design was conceived by Mildred and Duck to promote the 'You'll Get Dirty' exhibition for RMT Visual Arts Graduates. The 'rawness' of the imagery brilliantly reflects the exhibition title whilst the green copy prevents the poster from becoming 'lost' in the background.
Written by Rob Young: Rob Young works for moo.com, the print and design company. MOO print business cards, stickers, postcards and more. Visit the site here: uk.moo.com