Business Cards are often seen as the first impression of a business. In the past couple of years, people have really been pushing the creativity of their business cards to create a lasting first impression and to convey the value in their business through design and cooperated with good Business Card Printing Services for the best result.
The past couple of months, design blogs in general have provided us hundreds of thousands of business cards for us to look at and wish we could create or afford to create something so awesome and inspiring. The truth is, the majority of these showcased business cards had pretty comfortable budgets—but whether you are the client or the designer, you may not always be working with such generous pockets. So today, I have created a list of ways to take your business card project from 'standard' to 'stand-out.'
1. Bright Colors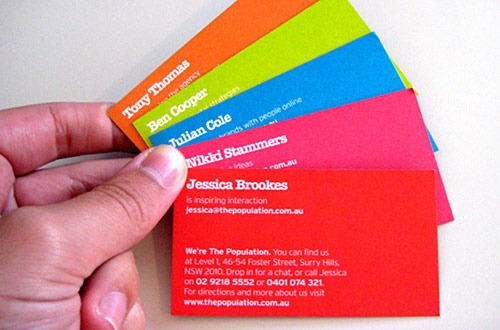 A common trend lately has been using black as the primary color on a business card. Stop that. I'm not telling you to throw rainbows and unicorns on your business cards, but bright colors of course always catch your eye. It may be hard to actually print a bright color, but see if you can find some Pantone swatches to help you out or talk with your printer to see if he has any colored paper that would be suitable for a business card.
2. DIY Die Cut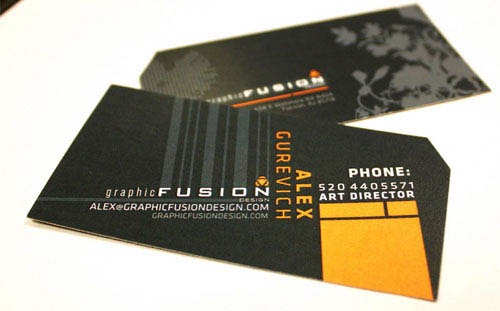 Getting a business card die cut can add upwards of $50 on your printing budget. People like to get their cards cut into cute little shapes or into their logo's or any type of weird parrellogram, but if you can go with a bit more subtlety, why not do it yourself? Especially if you don't hand out business cards all day, you can grab your scissors or X-Acto knife and cut a handful to pass out at a time. Cut off the top corner of your business card or cut into, but if you can, do it yourself (and make sure it looks good!).
3. Picture This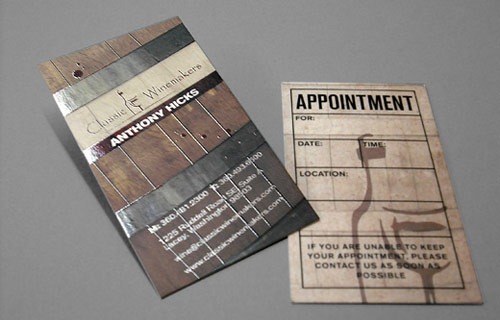 Don't put your favorite portrait on it (that's borderline tacky), but use a photograph on a business card. It's gotten standard that designers prefer to use type or illustrations and vector designs on business cards. So stand out and put a high quality photograph on your card. It would be a welcomed changed to a batch of redundant business cards.
4. Different Size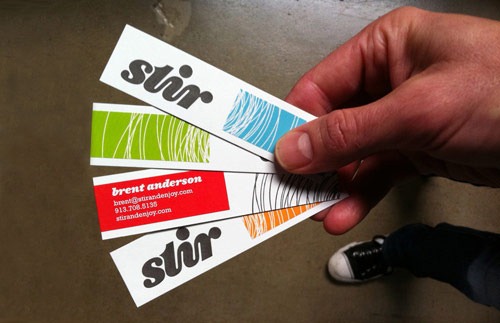 A standard business card is 3.5 inches by 2 inches, but we are looking for something standout, so go bigger or smaller. Don't pass out handbills or postcards and try to pass them off as business cards, but 3 x 3 squares are different or go with something thinner like 3.5 x 1.5 (almost like a movie ticket). It's a definite way to make your card different from the rest of the pack—quality over quantity!
5. Unorthodox Layout
Once again, this is a call to break out of the standard of business cards. It's typical to want to organize everything in logical boxes and such but break out of that norm. Create something that houses off-axis elements well and just really conceptualize a different, less boxy business card.
6. Oversized Elements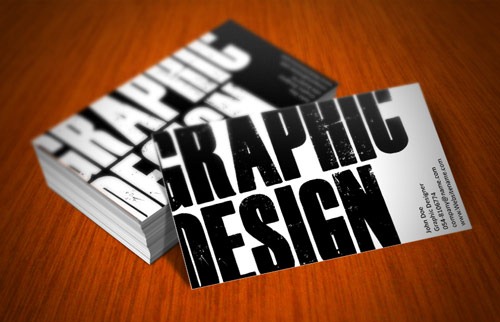 This is a little trick I learned with regards to any kind of print medium—go big with your elements. Scale out some text and let it run past the edge of the business cards. It's a great way to stimulate the brain and it's usually a neat kind of effect. Make sure the text is still legible and try applying the effect to some of your design elements as well.