A header in web design is the most important part of your website. Sitting on every page, it is the first thing visitors notice and is known as the face of your design.
There are no exact and clear measurements to form a guide for your header, this is all dependent on your style, perception and the message you want to give to your readers.
A creative and imaginative header has the ability to attract attention and returning visitors. This is a fantastic way to really draw people in and encourage them to read more of your content.
Online Branding
This small space can contain some of the most important elements of your online branding. To successfully include online branding techniques your header must include the following:
A tagline – a short sentence to define your business
What you do and through design it should portray the message you are trying to get out there, for example, designers, why not blend in some of your design work in to the background?
Your company logo.
A good header can elevate the rest of the web design, making it memorable and eye catching. A lot of designers, or those that work in a related field have a busy, colourful and creative header whilst the rest of the site remains clean; this makes an excellent first impression and gives visitors a brief insight as to how talented the people behind the website are.
The Showcase
A creative header can be challenging to design, so for today's showcase we have found 16 examples of the most creative website headers for your inspiration.
1. Toucouleur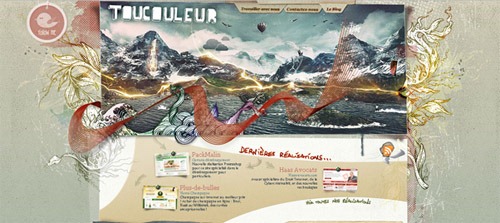 Toucouleur are a web design agency, this header is a highly creative. The artistic touch over the realistic illustration brings the rest of the website design to life.
2. Eric's Empire
This header design features a touch of vintage style. The old look and feel gives the city scape depth and emphasises the main navigation bar and tagline "creative designer based in Raleigh, NC".
3. The Pixel

The header for this web design is actually the top of a tree house. It sits on a large tree that forms the main body of the website. What is really clever about this is the structure, the header (top of the tree house) is the main section of the website, the navigation, and logo and tagline are placed clearly here. As you scroll down the tree forms the main body, articles can be read here.
Those curious visitors who scrolled to the bottom can find a great illustration of houses and a drunk passed out man! This website has a chic vintage edge that makes the whole design more appealing and memorable.
4. Kreativa Unlimited
Colourful, unique and definitely memorable, this website's header looks so realistic. The sewn on effect is bright and creative, it adds great texture and consistent theme throughout the entire website.
5. The Pally Giraffe

Pally Giraffe uses a captivating illustration in their website's header. This immediately has a memorable impression and allows visitors to see the designers work as soon as they enter the website.
The illustrated theme remains passively consistent throughout the website with the header being the only strong focus.
6. Steel Frog

Steel frog also has a hand drawn, illustrated look. The company's logo is large and immediately eye catching; it draws visitors in, highlighting their tagline. Their clever navigation menu is placed directly underneath the logo, which means it is within a visitor's eye line. This should hold a reader in and make them want to browse their content further.
7. N.Design Studio

Nick La's blog, n.design studio features an artistic header with light pastel colours and illustration, for those of you who know of this designer, this stunning header showcases his style and gives the whole website fantastic personality.
The header features a tagline, introduction and blends the navigation bar effortlessly. This is definitely on of my favourites.
8. Ozon3

So simple yet so effective, this header design features a realistic illustration with colourfulness, it brings a cheerful aspect to the rest of the dark website. The logo is situated on the right hand side along with the navigation bar, the illustration makes us feel curious and want to browse the site further.
9. David Jonsson

I love the way this designer has used 'welcome' so creatively, each letter contains a mesmerizing design that captivates visitors. The water effect adds depth and makes me realise a lot of thought has gone in to this design; therefore this designer must be someone extremely creative and imaginative. Again, it gives visitors a brief look in to his work. This is a fantastic header that pulls the whole website design together beautifully.
10. Simple.art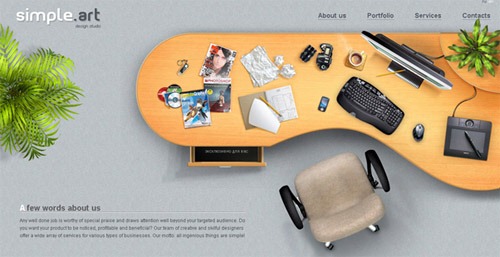 This header is in the style of an office table, the table has objects that reflect what the company does. It is clean, clear and clever. As you scroll down to view the whole website it forms an office room. This website is very memorable; the office style design adds a sense of professionalism.
11. Miki Mottes

Miki Mottes's website header features a fun playground. The small animations and their behaviour give this site great personality and showcases Miki's work beautifully.
12. Jesús Rodríguez Velasco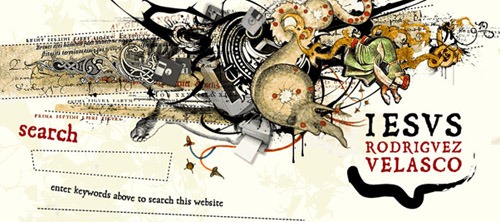 The highly creative header in this blog has a noisy look and feel; it is exploding with patterns and objects. This is unique and memorable, first impressions are important and this blog definitely showcases how professional the person behind the website is.
13. Ectomachine

This is a dark, creative and interactive header. The tagline and image are different to what most headers look like. This web design company have taken their website to a whole new level by going for a unique look, staying away from the light and clean look. The dark, grungy style has allowed their header to take centre stage.
14. FeedStitch

This cool website features 3D elements that make the header more impressive. There is a clear feeling of depth which is inspiring and memorable.
15. Cuban Council

This creative header demonstrates the important and impact texture can have. The Cuban council use texture to give "1911" a vintage feel that sounds out against the black back ground. Effortless and effective.
16. Justdot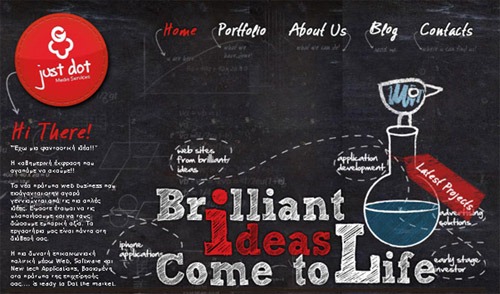 This creative header, has a retro back to school feeling that hits you as soon as you enter. You can tell that a lot of thought has gone in to the concept of this website header.
The header uses a variation of dashed and curvy lines, these help visitors to move around the website easily, whilst creating energy.