Alleys are the behind-the-scenes part of cities. Sometimes dark and threatening, sometimes gritty and damaged, but also sometimes strangely peaceful. Whatever their character, that back-to-front character requires that the traveler along an alley make a deliberate choice. They are the urban version of the road less traveled. In this sketchbook, Michael Cho has made that choice, to explore, practice his art and to document the back alleys and less-traveled parts of Toronto.
It is, of course, impossible to describe art in words, but it can be praised. Despite his established reputation, tremendous talent and success in a range of illustrative styles, Mr. Cho decided that he needed to continue to learn. Beginning in 2008, he started a course of self-study, to better learn to draw architecture and urban landscapes. He is, of course, already well-known in the comic book genre (he's justly famous as the illustrator of the Avengers series), but he also has a solid grounding and following in book cover and magazine illustrations. The range of styles is tremendous, from goofy children on the covers of the Max Finder Mystery Casebook series to the 1930s-style magazine illustrations in Boston Magazine. The media in which he works also shows great range, including gouache and ink (sometimes with watercolor wash) to digital illustration.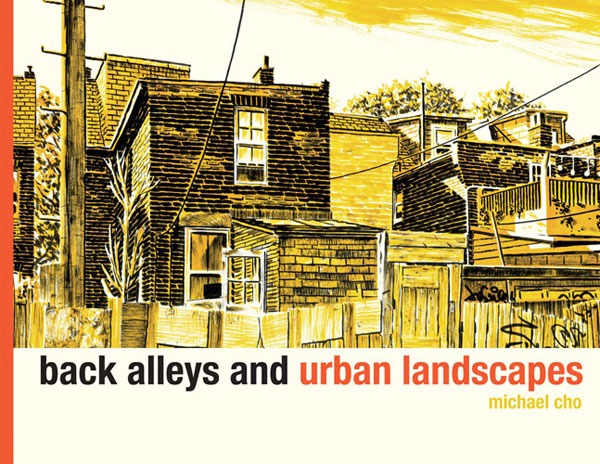 Cho's eye in this book also takes in such a variety, but of urban landscapes. All the artwork shows his deft draftsmanship, but with subtle differences in approach. The 80 pages provides a wonderful cross-section of Toronto, such that even a stranger to the city can get a feel for that place. It seems real, welcoming (even the grittier neighborhoods) and interesting. It's an odd experience to see a city through another's eyes, not only by Cho's artwork, but through the filter of his personality: His choices of which back alleys to travel and which media to use to document them. It is as if he were a personal guide to the back alleys of his city.
Michael Cho has maintained an excellent blog (http://chodrawings.blogspot.com) since 2006. In it, he shares not only his art, but his description of how (and why) he creates. Through his blog he shows his generosity of spirit as well as his talent.
Guest post contributed by Alison Green, for CamoTrading. Alison is a freelance writer and designer. She enjoys writing about Urban landscapes and unusual architecture.