We are always looking forward for stock photos whether for articles, stunning design and or next project. On this article I proud to announce of our resource for stock photograph "Deposit Photo" giving 2 accounts for our reader with $30 credits for each. They can use the credit to download any stock photos.
A little About Deposit Photos
DepositPhotos.com is your #1 resource for buying and selling Royalty-free photographs and vector images. Our vast library of imagestock coupled with our wide variety of flexible purchase options makes us the most convenient and profitable tool for designers, artists and photographers.
All the images offered for sale on our site, whether they're photographic or vector rendered, are protected by intellectual property rights and made available for use in accordance with our Royalty-free license. Our libraries are updated daily through contributor uploads that are closely scrutinized for quality and originality. Between the protections and the controls, you're assured of finding the highest quality original artwork available anywhere.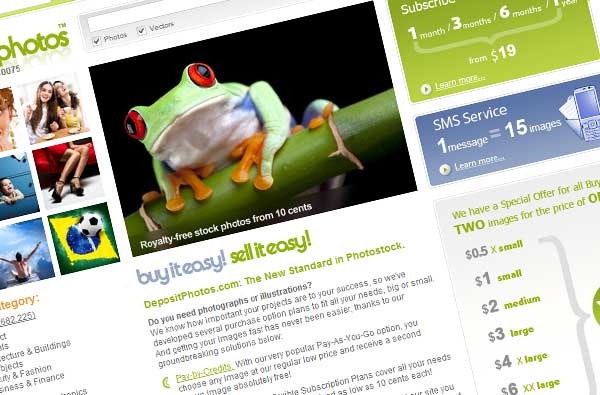 Whether you're a designer looking to buy images for a project or a photographer selling your stock, we make working with DepositPhotos.com as easy as possible. Our low, low pricing and flexible purchase plans make it easy to buy exactly what you need instead of just what you can afford, and our generous commission structures give our contributors enormous earning potential. We are the best of both worlds, because that's how we do business.
How To Win The Free Account
Follow us on Twitter @artfandesign
Re-Tweet this giveaway by clicking on tweetmeme button below, or just paste this status "Giveaway: 2 Stock Photo Accounts from Deposit photos with $30 free credit each « Artfans Design http://bit.ly/brN9Wk "
Drop a comment, don't forget to provide us your valid email. The winner will notify using the email.
This contest ends on next two week, July 17, 2010 and will be announced on July 18, 2010. The winner will be contacted via email. Good Luck !