Photography has transcended over from just a technical skill to a major form of art. The various weapons in a photographer's arsenal are geared towards making them more efficient but there is no alternative for pure creativity. An artist needs constant rejuvenation of ideas and it is not just a whim of fancy for them to experience new things. New experiences feed the creative soul in them and bring out the best in their work. However, the biggest hurdle for any photographer is to find constant new perspectives in a stagnating situation. This is an apt place to introduce a very simple recourse to not just rejuvenate the soul but boost fitness, promote health and provide new perspectives and ideas for better shoots – Hiking!
Naturalist photography ideas from hiking
Of the different styles of photography prevalent now, there is a definite rise in the popularity of the naturalist style. However, this does not mean that the other verticals of photo art cannot benefit from the simple approach of this style. In fact, countless professional feature photographers, fashion photographers and even wedding photographers have incorporated the nature, the outdoors, and a very un-choreographed style of photography in their high profile projects.
Simply put, the outdoors gives you the time to experiment with the various lighting, using minimal equipments and on the move photography.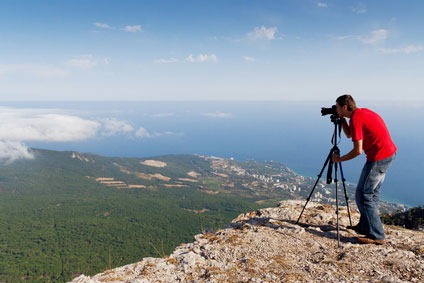 Photography Character and style building
As explained in the point above, the nature is a very important teacher. Hiking allows you to get closer to scenic trails and places, which might not be accessible with vehicles. These terrains are usually untouched by the pollution or developments of the society. While hiking, you have to rely completely on yourself (and probably on your hiking partner!). You cannot lug heavy equipments and multiple lenses, so you will have to carry specific equipments and adjust your personal skill without the added help of technology by your side.
These practices will not only help you realize your true potential but improve your caliber, style and character as an exceptional photographer.
Hike smarts – fitness and health benefits
Even if you pursue photography as a hobby, there is no reason why you cannot include the discipline of hiking to your agenda. Hiking is not just an asset to your photography skill. Hiking is a well-established form of physical exercise regimen that can beat most expensive gym routines o dust. You build incredible stamina, immunity and muscle definition. With a regular (weekly or biweekly) hiking regimen, you will find your breathing and skin definition improving. Also, people with migraine or fibromyalgia pains will find they have longer respites between the next attacks.
It is important that before taking on a difficult trail or starting to hike for the first time, you should consult your physician to rule out heart symptoms, arrhythmias, and asthma problems.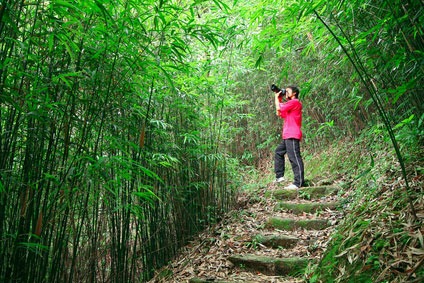 Some useful tips for hiking photography
If you do not have much experience with hiking, it is best to join a club or hiking group near you. This way you can have some experienced backup on the trails.
You have to start with a certain level of fitness, because you will not just be walking on the trails but running at time! Think- You will be stopping to pictures at set points and the group might have already gotten ahead so you would need to rejoin them at steady intervals. Remember, it is not a good hiking etiquette to expect your hiking partners to be waiting for you repeatedly (unless of course, you share the love for hiking photography too!)
You can also experiment with scales by shooting the walkers in the group. You can forge ahead of them and click them in shot while walking towards you. You can also fall behind and take shots of the line as they move away from you.
Always carry a waterproof backpack or cover for your camera and lens to protect against a sudden rains (especially, if you trail is along a rain prone area).
Fogging is also a consistent problem. A good solution would be to take the toughest camera you own, to your hike. Avoid capping the camera too much or even placing it in the bag at intervals. This would just increase your problem, as you would have to take the camera out every time you spot a good shot but you will then have to deal with the fogging buildup again!
Do not forget to enjoy your hike and the total experience of photography and nature!

Written by Matthew: Matthew loves to write about photography and enjoys hiking a lot. He uses Backcountry coupon code and Moosejaw coupon code to save on his outdoor adventures.