Selecting a camera always depends on an individual's choice and usage. One cannot pin-point to a specified camera when he plans to get one for his own. Normally, a beginner would go for a point-and-shoot camera if he just needs to take shots as and when he wishes for. Also this type of camera is more suitable for anybody who is new to photography. The selection of the camera must be purely based on various factors such as the type of photography he is engaged in, the type of subjects you are concentrating on and the budget for the camera. Here, in this article we will discuss about some points that must be looked in to before you go for a point-and-shoot camera.
First and foremost thing one must do is to read a lot of reviews instead of just buying a model based on brand name. One must not just decide upon the megapixels. Higher megapixels doesnot necessarily give better picture quality but only gives bigger picture size.
Point-and-shoot digital camera
Features that are to be looked in to while buying a point and shoot digital camera are:
Weight and size
A camera must be selected based on the size so that it can be easily slipped in to the pocket or be carried away easily wherever you go. Recent point and shoot cameras are light and slim so that nobody even knows that you have it with you. Few other models are bulky too. The selection of thinner cameras or the larger ones purely depend upon the choice of the user. Thinner cameras are expensive while larger cameras come with longer zoom lens, larger LCD screen and easy to use controls.
LCD frame
With point-and-shoot cameras, you can set with LCD frame for each shot. And some models even come with flip out screens that enable the users to take shots from different angles. Also, it is better to get cameras with LCD screen than the viewfinders. The resolution on the LCD is measured in dots. Higher the number of dots better would be the detail in the images.
Price
Usually the price of the point and shoot cameras are cheaper and these cameras come in more affordable price.
Quiet operation
The point and shoot operation is so quiet that the subjects in front of the camera never knows that a shot has been taken.
Auto Mode
Quality of images purely depend on the type of point-and-shoot camera one has. Most of the cameras come with Auto Mode feature assuming that they are mostly used in that setup.
Important features
Look for some important features in any point and shoot cameras. Image stabilization is a feature that reduces the blur caused by shaky hands. A camera with digital image stabilization must also have sensor or optical shift stabilization. Face detection technology is another important feature that focuses on the faces on the frame and adjusts the overall composition of the image.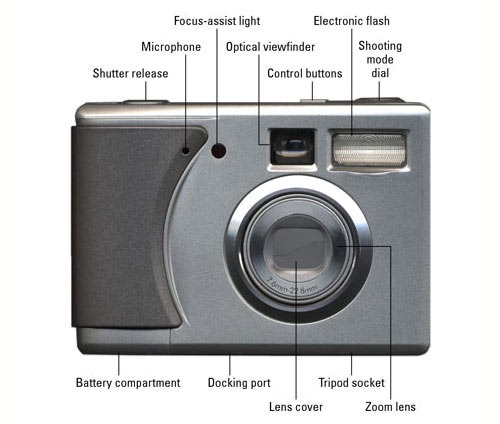 Front of a typical digital camera
Point and shoot cameras are easy to use as the user needs to press only the shutter button to take the picture and the rest of the action is done by the camera itself. The camera automatically adjusts the aperture, shutter speed, light sensitivity and focus to capture a clear picture. These cameras are less expensive than other types of cameras.
One must also know about the weaknesses regarding the point-and-shoot cameras before you decide to get one for your own. Some of these have been discussed below:
Generally point and shoot cameras have small image sensors that produce low quality images.
Some point and shoot cameras are not adapatable. Eventhough some cameras come with lens adapters, they are not used by many.
Most of the point and shoot cameras come with viewfinder. These are mostly available in small sizes are at times useless. Whereas some models do not come with viewfinders in them.
Point and shoot cameras are slow particularly with the shutter lag, focussing time and start up features.
Most of the manual settings are hidden in the menu systems, which makes access difficult when compared to the DSLR cameras.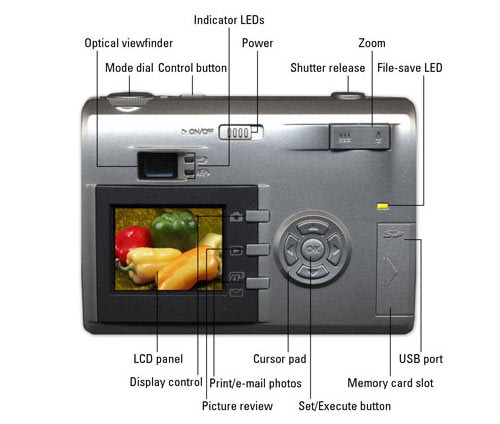 Back of a typical digital camera
Numerous digital camera models are now available in the market and it is left to you to decide about selecting an appropriate model based on your choice. Spending too much for a useless product is meaningless. Whatever model you buy must ultimately satisfy you in every way.