I am very happy today to release my latest designs 'imute aje', a name derived from the word 'imut', which means cute (no idea to name it

). With a combination of brown, green, red and beige, giving the feel of a warm, natural, comfortable and brave. Suitable for web and company or personal blogs you a dynamic and energetic.
Consists of 3 pages design are the front page, blog page, as well as single page with other web elements that may you need. This template is very easy to be modified because it full layered photoshop source, so you can adjust to the needs of your website. But in this post I have not been able to present in HTML + CSS, maybe next or you can hire me to convert the psd template to html+css or psd to wordpress for your website 😉 . This template are free released under Creative Common License (CC 3.0 Attribution) and also for commercial use.
So what you waiting for, lets take a look. Click the images below to preview in big size, download the photoshop source file in zip file at bottom of post. Please leave your comments!
Home Page Layout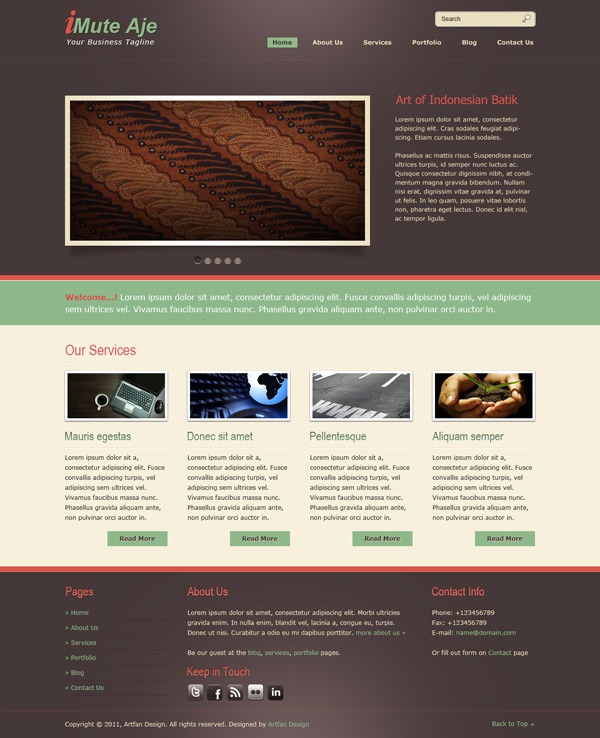 Blog Page and Single Page Layout
Below template for Blog Page and also Fullwidth/Single page with others elements such as Heading, Form, Button, One Column layout, two column.
Download Now!
download: imute-psd-template.rar (4.79MB)
added: 04/05/2011
clicks: 4948
description: Include 3 Photoshop (psd) source files. Layered and full customizable.