There are many online billing applications available in the market for managing, creating and sending invoices and it often perplexes us which one is suitable for our business? Some of them claim their invoices are best in the industry while others focus on the actual backend and the ease of use for you and for your client. Recently we reviewed Invoicera, an online invoicing and time tracking application and concluded that Invoicera gives you simple and fast experience to create and manage invoice without worrying about tracking down payments. Invoicera is an invoicing application that helps you to create online invoices for your customers with ease and with assured security. You can create free bills and invoices using this application which will give you professional online invoices, track payments and expenses and generate quick reports of the invoices and payments made towards the sale.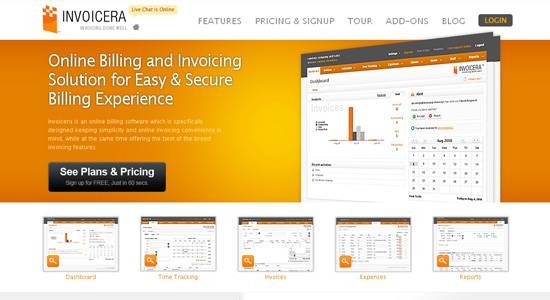 WHY CHOOSE INVOICERA?
If you have a look on the recent updates which they launched, you will notice that it is making continuous efforts with a sole objective to provide its users with every possible solution which they might need to make their billing as efficient as possible. The newly added features by it enhances your credibility in front of your clients and gives you an extra edge to take a lead over your competitors.
We did an in-depth review for this billing software and found some interesting facts which we would like to share with you. Keep your mind as well as your eyes open because you are really going to get some interesting facts from here:
Multi Language & Currency Support
This application supports multiple international languages so that you can create invoices in the language of your country and also you can send invoices to your clients in their respective currency and language . You can also use multiple currency support using Invoicera and generate meaningful and correct invoices for your domestic and international clients. Invoicera supports as many as eleven international languages popular worldwide
1 2 3 4…………20 major payment gateways
Isn't it something really astonishing? We haven't seen a billing software providing with such a wide variety of payment gateways for billing. The benefit for so many payment gateways is that you can now make and accept payments by all your clients irrespective of their location, some countries support few gateways for their citizens but using such a wide variety will definitely meet the needs of almost all your clients. Paypal, 2Checkout, Google Checkout, Authorize.Net, eWay and many more are some of the most favorite payment gateways of the online industry.
Allows you to fully customize your template
Most of the billing software provides a default template for invoicing your clients. The problem which you face in them is; you have different clients at different places and so their needs for invoices also differ in nature. You may want to give discount facilities to some of your clients but not to all of them, or you may want to charge late fee to those who often delay in making payments. Invoicera with its template customization option allows you to modify your invoice template for each and every client. You can easily add or delete any section from the template which you don't think is necessary for a particular client. This not only enhances you billing capacity but also reflects your professionalism in front of your client.
Schedule your invoices and take some rest
Invoicera provides you with the facility to schedule your invoices for a particular date and the client to whom it has to be sent. Once you enter the name and the date for a client to be invoiced, your invoice is sent exactly on that date and time only. So from now onwards you don't need to panic about remembering each and every client's name to which you have to send invoices. This eases your billing procedure and provides you with some spare time.
Delegate your tasks to your staffs and manage them as well
This is another interesting feature which Invoicera provides to you. Now you can allocate your tasks to your different staffs and can also keep a regular check on the performances of your staff members. It will provide you with all the details related to the assigned task like; how much time has been spent by your staff to accomplish that task and calculate the actual cost by your staff's hourly billing rate. The moment you add a new client, you can assign that client to your staff and keep a track of it as how many invoices has been sent by that staff and how many clients he/she has added. This helps you manage your project in an efficient way and increases your productivity as well.
Keep a check on both your time and expenses
With the time tracking feature of Invoicera, you can easily track each and every second spent on a particular project. You can use the project work log whenever you start working on a task and in the end of your task, it will show the exact time which you spent while doing that task. While its expense tracking allows you to create expenses which you have made while working on a project for your client. Once you finish with a project you can add these expenses in the invoice which you will send to that particular client.
Import your Expenses from your documents
This is another interesting feature provided by Invoicera. You can now easily import your expenses into your Invoicera's account and thus, you will always know your business profitability. The new addition to expense tracking is the option to Import Expenses. Get your expenses on a XLS file and perform simple steps later, your expenses will be imported. This makes it really simple to import items from your expense documents to ensure your expenses are up to date.
Recurring Invoicing with Auto Billing
Recurring billing allows businesses to automate the billing process, giving customers the opportunity to pay bills conveniently online and eliminate paper invoices. With the use of this software, you can easily bill your clients who need regular invoices to be sent at regular intervals of time. Recurring invoicing is most helpful when identical invoices are required to be sent to the same client at specific intervals. This eliminates your printing, mailing and postage costs. As your accounting complications are also reduced to a minimum, therefore, it saves a lot of time for you which you can utilize in some other important planning purpose.
Send Invoices to Multiple Contacts
Invoicera allows users to send invoices or estimates to more then one contact. Sometimes you may be required to send same invoice to number of parties. With this application you can easily and in one time send invoice copy to multiple contacts. No need for creating same invoice again.
Invoicera with Google apps
Invoicera makes itself compatible with very popular Google apps. Therefore, if you are user of Google apps, than using Invoicera is not a problem. The application can easily be accessed through various Google applications. The application can be assessed with single sign on process and use Invoicera with single Google domain name.
Overall Invoicera is a useful online invoicing application with multiple functions to make your job easy as a business person. Invoicera is a user friendly software, providing what customers wants. The unmatched flexibility which Invoicera provides in their service gives you an extra edge over your competitors. With loads of features, excellent support and ultra competitive pricing Invoicera is definitely worth checking out.