Paintings are something which is liked by everyone for one or the other reason, people use them for decorating home or office interiors or many people also paint fabrics for various purposes like clothes, cushion covers, table mats, etc. For doing these painting on any type of material, colors and brushes are required. Different colors make the paintings look better and enhance the beauty of the art. For doing these paintings, brushes play a very important role as without them it is very difficult to do any type of painting.
There are many types of brushes available in the market, they come in different shapes and sizes for giving different textures to the paintings. Selections of these painting brushes are done on the basis of the usage; there are mainly eight types of brushes available for this purpose. So let's see how these types are categorized: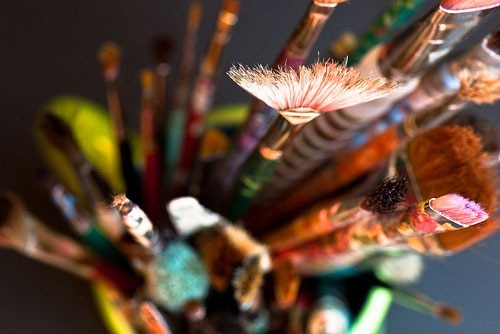 image courtesy of Flickr
1. Round pointed brush:
These brushes are round and have a pointed tip, good for filling the narrow areas or for creating thin lines. Wider patterns can be done by pressing these brushes more towards the base. They are used for both coloring and outline purposes.
2. Narrow pointed brush:
These brushes are very narrow and have pointed ends, these are used for delicate detailing or outlines only.
3. Square end brush:
These brushes are not round at end, they are square. Best used for bold strokes or for filling the wider space, for drawing strips and big patterns these square end brushes are very good.
4. Fan brush:
These brushes are in the form of a fan, they are good for smoothening and blending purposes. Even for textural patterns, these brushes are the best to use.
5. Detailed round brush:
These brushes are very small and easy to handle and as the name suggests they are best for giving final details. The hair of these brush are very small so for minute details they are very good.
6. Filbert brush:
It is flat in shape with oval shape head; it is best used for painting the round edges or for blending different colors.
7. Angular flat brush:
This brush has medium hairs which are at an angular shape at the end; it is mostly used for giving different shades and strokes. Due to a pointed end, it can also be used for filling the points in the paintings.
8. Bright brush:
This brush is used for giving small strokes or for using thick colors like oil paints. It has curved edges with short hair.
These are the eight types of brushes which are used for filling the colors in the paintings, without them a painting cannot be done. They are a very crucial for doing any kind of art, so according to the choice and need one artist can select from the different range available in the market.
Written by Anna: Anna is a person with a passion for writing. She has written many articles on various topics paintings, for more information you can check her other blogs.
The header image courtesy of Flickr