The internet is chock-a-block with different websites clamoring for the attention of their target audience. Forget about emerging as the leader, but even surviving in such cut throat competition is difficult. But, there are websites and online businesses that are actually thriving in such conditions and the credit for this should be given to their website design. Their designers have taken every care in the book to ensure that their designs attract a loyal stream of website visitors, which in turn ensures a successful online presence.
The key to successful website design is getting the fundamentals right. Let's take a look at three such fundamentals: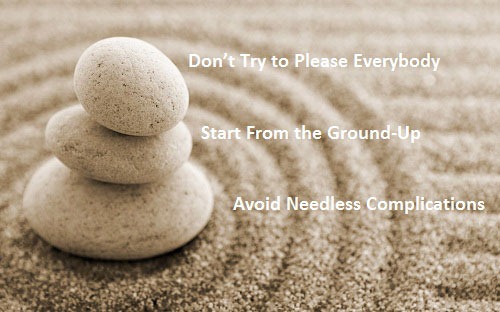 Get Specific – Don't Try to Please Everybody
Let's face it, you can't please all and sundry with the design of your website. This is why you need to create a design that will appeal to your specific target audience. For this to happen, identify a theme that your audience will appreciate and create a website that revolves around that specific theme. The business of website design is all about specifics and designing a website that has no clear and definite thought process behind it will never work.
Start from the ground-up
Begin at the very beginning. When you are conceptualizing the design of the website, first check with the developers regarding its feasibility and only then start off on its wireframe. At the same time, identify the various designing platforms that you are going to use to bring your concept to life. It's important to understand that there are plenty of designing platforms out there, but use only those, which you are comfortable with. This will give you the added confidence to be innovative with your design and bring to it a sense of uniqueness.
Avoid Needless Complications
Some website designers fall into the trap of designing a website that is replete with complicated visuals, call-to-action buttons and complex use of design elements. This results in a UI that not many website visitors can make sense of. As can be imagined, such visitors will definitely prefer going to some other site and not wasting time on a site that is difficult to understand. Therefore, it's important that you subscribe to the policy of simplicity. Simplify your designs as much as possible, so that the website is able to deliver its message clearly.
To Conclude
As can be imagined, these are not the only fundamentals that you need to keep in mind for creating a successful website. But they are enough to get you started. If you are serious about your job as a website designer, it's of paramount importance that you keep improving your skill sets and keep identifying and implementing more fundamentals as a part of your website designing process.
Written by Hazel Raoult: Hazel Raoult  is working with PLAVEB – a leading web design company based in Los Angeles, CA. She loves designing visually striking user experiences for clients and has brought to life a slew of client projects that have gone on to become very successful. She has a keen insight for design and loves sharing it through her write ups.