WordPress as a Tool for Photographers
WordPress is considered as one of the best online blogging platforms. It is very user-friendly and a simple tool. It can be really beneficial for the designers and the photographers. Photographers can show their portfolio using smart WordPress themes. These themes are primarily designed to show portfolio. Apart from themes, there are also so many unique features and functions for the photographers. Nowadays, there are so many plugins, which you can easily select and insert on your blog. Let's discuss some of the top WordPress Plugins for the photographers.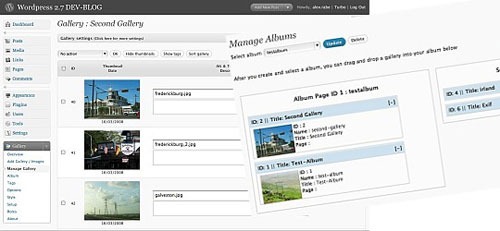 NextGEN is fully programmed (automated) plugin. It has so many operations and functions. It is an image Gallery plugin. The best advantage of NextGen plugin is that, you can easily upload zipped files instead of uploading images one by one.

SEO friendly image is also a very good and unique plugin. It has ability to add alt and title attributes automatically. It certainly boosts your traffic. In order to get more traffic from the search engines, sometimes you have to optimize your task accordingly. It is not necessary that, you always go for text optimization. You should go for image optimization as well. You can easily get traffic from Google Image Search. While doing image optimization, you should be primarily focus on "alt" attributes and name of the images. You should try to use short but detailed filenames.

This plugin has a capability to convert your blog into a mobile format. It has some powerful and user-friendly features which support mobile as well as tablet devices. The best advantage of the mobile devices is that, sites usually load quicker on them. They also provide better user experience.
Article2PDF is a very smart plugin, which allows you to download any post in the PDF format. The best advantage of Article2PDF plugin is that, it specifies a template layout of the generated PDF file. Due to its extraordinary features, it has some edge over other plugins. Another main advantage of this plugin is that, it has tendency to preserve all the image files, URL'S (links), formatting, html elements etc. into PDF format (of the post). Due to this, you can reduce the server load by caching the generated PDF files. PDF files. You can read downloaded PDF file with the help of Classic PDF reader.
In order to change the context menu, this plugin uses JavaScript to alter the right click action on image tags. The basic purpose of this plugin is to hinder the right click menu on images.
So, these are some of the essential WordPress Plugins for the photographers. These plugins certainly provide so many advantages for the photographers and are useful in number of ways. Plugins like "Rename" will save extra time and allow you to rename the title of the image. I would strongly recommend you to try these as they are simply the best. Here are some of the essential WordPress plugins that every small business needs.