Few industries rely more on web marketing than travel. Imagine taking a trip without first researching online. It sounds crazy, doesn't it?
However, few industries are also as competitive. There are huge players. The Expedia portfolio sites brought in $3.8 billion in revenue in 2011. For the travel website designer, it's David vs. Goliath in a life or death battle.
With these truths in mind, here are some tips on how not to plan and build a travel website.
DON'T target impossible keywords.
DON'T try to be everything to everyone.
DON'T give people just one way to navigate.
Here are some specific recommendations with examples…
1. SEO – DON'T target impossible keywords. Be specific.
Yes, it would be lovely to rank for "cheap travel." According to Google Keyword Tool, 1,220,000 people search for this phrase each month. But look at who's ranking on page one. It's a who's who of the largest travel sites in the business. You're not going to win this fight.
So research carefully and pick phrases that meet three criteria:
Search volume: some people are searching, even if it's only 100 per month.
Competition: the top ranking sites aren't all famous sites with powerful domains.
Relevance: The phrase describes exactly what you do.
Example: R Crusoe & Son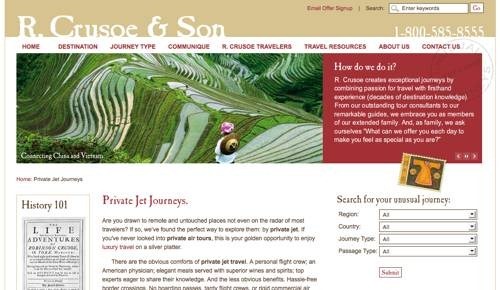 R. Crusoe & Son is a small luxury travel company specializing in custom trips. Even though the bigger players are winning for the most popular phrases, there are less popular but more targeted phrases where they can compete well. R. Crusoe built a page focused on the phrase "private jet journeys" (which happens to be one of their specialities). With that phrase, they rank, they get visits, and they get leads.
2. Targeting – DON'T try to be everything to everyone. Find your niche.
Just as ranking for the really general phrases is next to impossible, building a travel business without a specialty is even worse. The sites that succeed today aren't the generalists. They specialize. The old cliche "riches in niches" doesn't make the point strong enough. "The generalists die first" is more accurate.
Successful travel companies are narrow and deep. They do one or two things very well. This tight focus helps them both find their audience (search marketing) and keep them interested (messaging and usability). They stay focused on a specific location or specific interest.
Example: Sports Traveler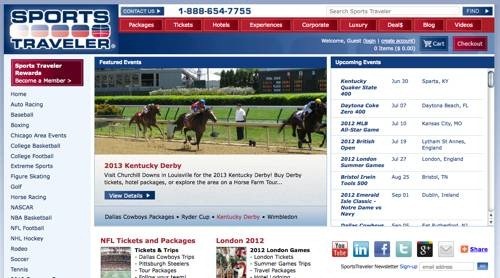 Sports Traveler offers tickets and travel packages to sporting events. It's the name of the business, it's in the domain name, it's all they do. There is never a moment of doubt in the visitor's mind. Even though they don't focus on one sport, it's clear: this company offers travel for sporting events. This focus gives them an advantage in search and in usability.
3. Navigation – DON'T give visitors just one way to navigate. Add options.
Some travelers know where they want to go. Others know when they want to go. And some people just know what kind of trip they want to take. If your website doesn't offer options to all three types of visitors, you're going to lose some of them.
A great travel site offers lots of options. Starting with the main navigation, the site should immediately guide visitors to the content and features that are most relevant for them, such as maps, calendars, directories and search tools.
Example: Austin-Lehman Adventures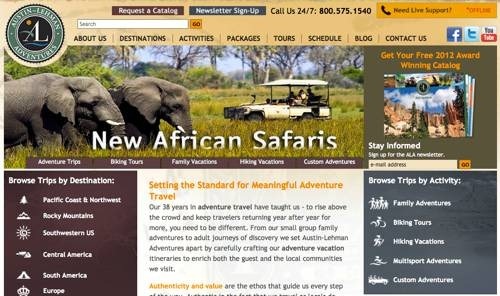 Austin-Lehman offers adventure travel to destinations around the world. The main top-level navigation has options for visitors that help everyone.
Destinations takes visitors into a directory of locations with maps, starting with continents, then countries, then regions.
Schedule shows upcoming trips by months and dates.
Activities has icon-based navigation that visually connects with visitors according to their interests, from family trips to safaris and wine tasting to biking.
Without this variety of navigation, the site would be difficult to use for some visitors. Remember, user-centered design is the key to online conversions. Give them what they want, or they'll never give you what you want.
Bon Voyage or Bounce?
Use these tips to build a more successful travel site. Combine them to get more visitors, lower bounce rates and higher conversions. Ignore these tips and you may build a travel site that goes nowhere.
Written by Andy Crestodina: Andy Crestodina is the Strategic Director of Orbit Media. Orbit does travel web design from our studios in Chicago. You can find Andy on Google+ and Twitter.