Currently there are many social media to share and promote their website and articles. Social bookmarking sites are sites that allow you to save your favorite web page, then your favorite publicly displayed, the point is that others who have similar interests with you also might be interested in what your favorite. And also a good way for a site or article to get known is to submit to social bookmarking sites, so it must be submitted as easy as possible for visitors.
On this post I want a little review or introduce WebDev5 a social bookmarking site launched about 7 months ago. Webdev5.com based on Drupal and Drigg module which is an excellent alternative for Digg-clone. Currently enrolled around more than about 300 active members with the resources that are very good every day.  You can submit design news articles, development, web design and other related articles. Categories range from graphic design, iPhone, Freelance, SEO, PHP, lists the API is running and active.
It's really a paradise for all web designers, developers, and graphic artists to exposure their articles, draw new readers, draw traffic to their new articles. And for me as web designer it's good place to get resources about web design.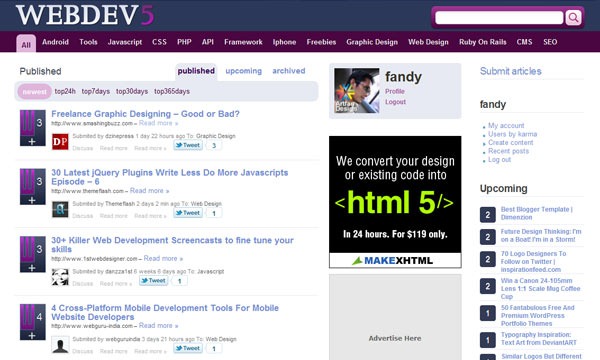 WebDev5 brings together the latest news in the web design and web development community from thousands of sources. Find the best news,srcipt, vector, tutorials and resources of the day and vote for your favorite stories.